We love a statement motif at hush – from tongue-in-cheek slogans like our best-selling C'est Si Bon sweat top to our much-coveted star, pineapple and palm print tees – what's not to love about this super effortless style fix?!
The good news is that we have lots more on the way this season, starting with a new Joanie Loves Chachi sweatshirt and some metallic Lightning Bolt styles in our pre-spring range.
We asked blogger, freelance fashion editor and creative consultant Alex Steadman, the woman behind The Frugality the ultra chic blog dedicated to the pursuit of style without blowing the budget, to take a at our new styles.
As far as Alex is concerned, the not-so-humble sweatshirt is definitely an affordable luxury – especially when it's less humble and more of a statement piece. "It's a must-have for every wardrobe," she urges. So that's settled, then – and here's how to wear it...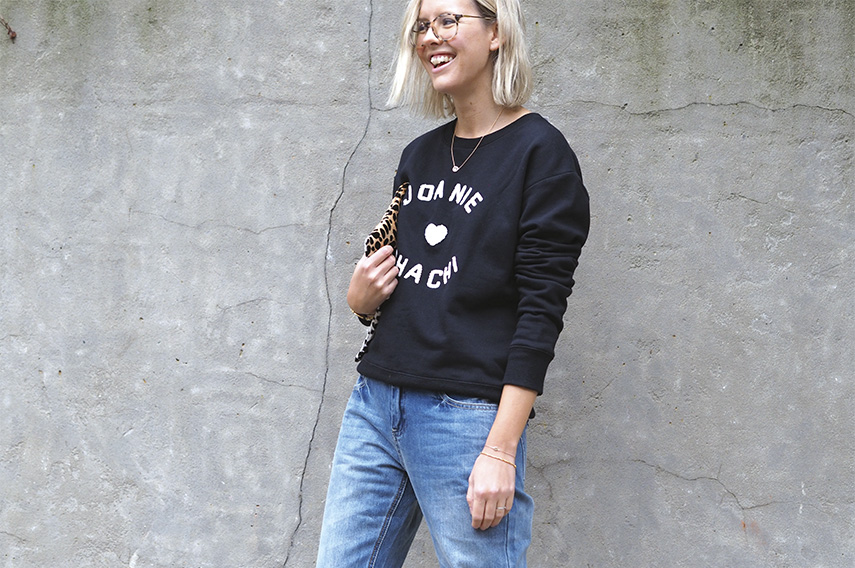 "The sweatshirt has evolved over the last few years from casual-wear to uber-chic and I've been heavily onboard from the beginning. No longer saved just for the gym or for wearing when lazing around at home, the humble sweatshirt is now a must-have piece for every modern woman's wardrobe.
"I love the relaxed fit; the easy-to-wear texture; and the fact it can make anything look effortless – from a pair of boyfriend jeans to a (it's often the pieces that least go together that work the most). And don't be afraid to shrug up the sleeves and embrace that '90s spirit.
For me, the recent rise of the logo sweatshirt has been the icing on the cake - because fashion, is, after all, about having fun. I love that it can be a talking point, too: you can almost find your 'tribe' via your sweatshirt's allegiance. (I was a Happy Days fan so will of course be donning the Joanie Loves Chachie top with pride.) Because a new year brings new beginnings and positivity - so let's all wear our hearts on our sweatshirts and embrace the year ahead."

Lightning Bolt Tee £35, Mini Lightning Bolt Tee £30, Lightning Bolt Tee, £35

Visit Alex's blog here, and follow her on Instagram @thefrugality and Twitter @TheFrugality.