First it was banana bread. Then, sourdough starters took over our Instagram feeds. Now, as life edges ever closer to being back to normal (whatever that means, anyway) it's time for the spotlight to fall on the one-pan dish.
The premise is deliciously simple: bung all your ingredients into your baking tray of choice, throw it in the oven and come back a while later to enjoy the fruits (and vegetables) of your efforts without a mountain of dirty dishes.
We're certainly big fans here at hush HQ. Below, we've rounded up some of our team's favourites – from a lightly spiced Turkish breakfast to an aromatic chicken and chorizo traybake from the high priestess of one-pan cooking herself (that's Rukmini Iyer, for those not in the know).
Ready, steady… bake!
Gillian, Assistant Designer, recommends Ottolenghi's baked rice with tomato and garlic
"This is a failsafe rice recipe that is great for summer. You throw everything into the oven, and it comes out fluffy and perfect every time! I enjoy this on its own, but it also goes well with some lamb koftas or roasted veg and hummus."
Katherine, Brand Merchandiser, recommends Rukmini Iyer's chorizo bake
"This recipe is easy, tasty, healthy-ish, and with the chunks of chorizo you can close your eyes and imagine you're on a Spanish terrace! Who has spelt in their cupboard, though? I swap it out for quinoa, and you can switch the sweet potato with butternut squash, too."
Anna, CRM Manager, recommends Turkish One Pan Eggs
"This recipe from BBC Good Food is so easy to make – and I always seem to have these ingredients rattling around my fridge! Add that to the fact that it only takes about 20 minutes to rustle up and it's become my lockdown lunch staple."
Molly, Assistant Merchandiser, recommends a chicken traybake
"I'm not great at cooking, but this recipe from The Roasting Tin by Rukmini Iyer makes me seem like a seasoned cook! It's become a weekly recipe for me. I just love the combination of chicken and chorizo, as well the aroma of rosemary that fills my flat."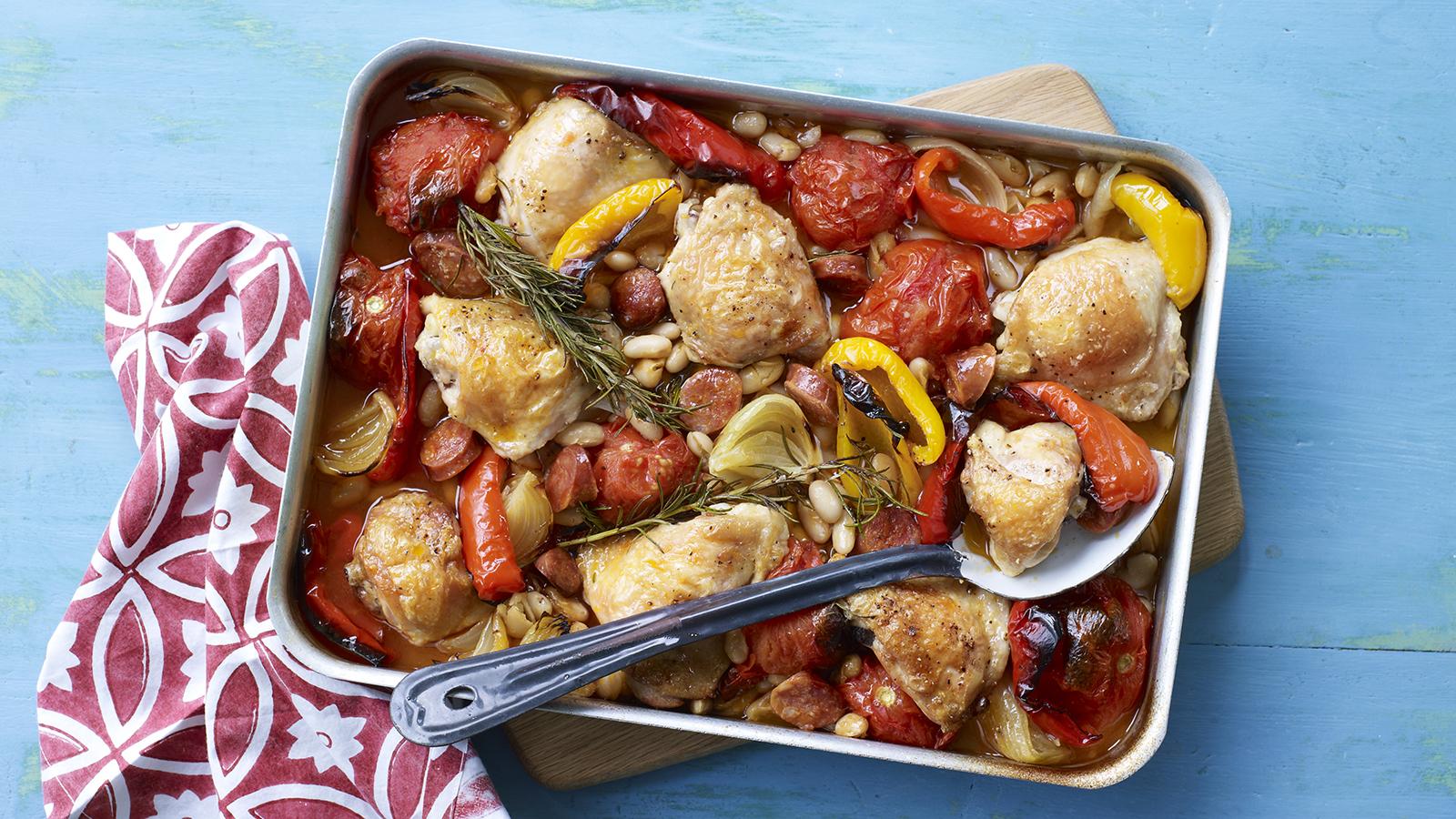 Georgie, Writer, recommends Jamie Oliver's Baked Feta
"I am beyond obsessed with Greek food, and this recipe instantly zaps my brain to a tiny, Mamma Mia-style Greek island. Feta, olives, tomatoes, crispy sourdough (bought or home-made) AND barely any washing up – what's not to love?"