Pastry chef Hope Cameron-Webb puts her twist on three timeless recipes
January might be awash with food-related resolutions, but for us, this slow and steady first month of the year is all about embracing simple pleasures while the cosy (and let's face it, somewhat grey) days roll on. So, we asked five-star hotel-trained pastry chef Hope Cameron-Webb, aka @bakingwithapastrychef, to give us some comforting classics to try cooking at home that perfectly capture the slow-paced simplicity of January days.
Now that the festive period is over, it feels like the perfect time to relish winding down this January. After a busy December, I tend to crave a relatively chilled few weeks, taking time to enjoy doing the things I cut back on in all the Christmas hustle. For me, that means cooking. It's my favourite time of year to create simple, nostalgic dishes that'll warm these cold, drizzly days – I love adding a twist to classic recipes, keeping their comforting core but bringing in some new textures and flavours. I always try to cook with the seasons too, so right now is the perfect time to use winter citrus, apples and pears. Whether it be fresh homemade crumpets in the morning or a tempting bowl of panettone bread and butter pudding, nothing sounds more inviting to me than cosying up on the sofa with a steaming bowl of home-cooked food.
Maple Roasted Pears with Vanilla Ice Cream
Serves 3
I N G R E D I E N T S
3 conference pears
2 tsp. ground cinnamon
Pinch of salt
2 tbsp. stem ginger, chopped
½ lemon, juice
100ml maple syrup
A few handfuls of your chosen nuts, chopped (I used hazelnuts and flaked almonds)
Vanilla ice cream, to serve (optional)
M E T H O D
1. Preheat your oven to 200°C. Peel the pears and cut them in half lengthways. Trim off the bottom and top before scooping out the middle to remove the seeds. Place the pear halves into your chosen oven dish. Sprinkle over the ground cinnamon, sea salt and chopped stem ginger. Squeeze the lemon juice over the pears and pour over the maple syrup. Cover the oven dish with aluminium foil and bake for 20 minutes.
2. After 20 minutes, remove the foil, turn the pears over and return to the oven for 15-25 minutes. Once baked, the pears should be soft enough to push a knife through (depending on the ripeness of the pears, they may need a little longer). Add a few tbsp. of water into the dish to loosen the remaining syrup so you can spoon it over the pears later. Flip the pears over a few times to coat in the syrup.
3. Place a few handfuls of your chosen nuts in a pan over medium heat. Continue to toss over the heat until toasted and golden brown. Set aside until ready to serve.
4. Serve the pears warm with a little of the syrupy juices from the dish, a handful of toasted nuts and a scoop of vanilla ice cream.

Marmalade Panettone Bread and Butter Pudding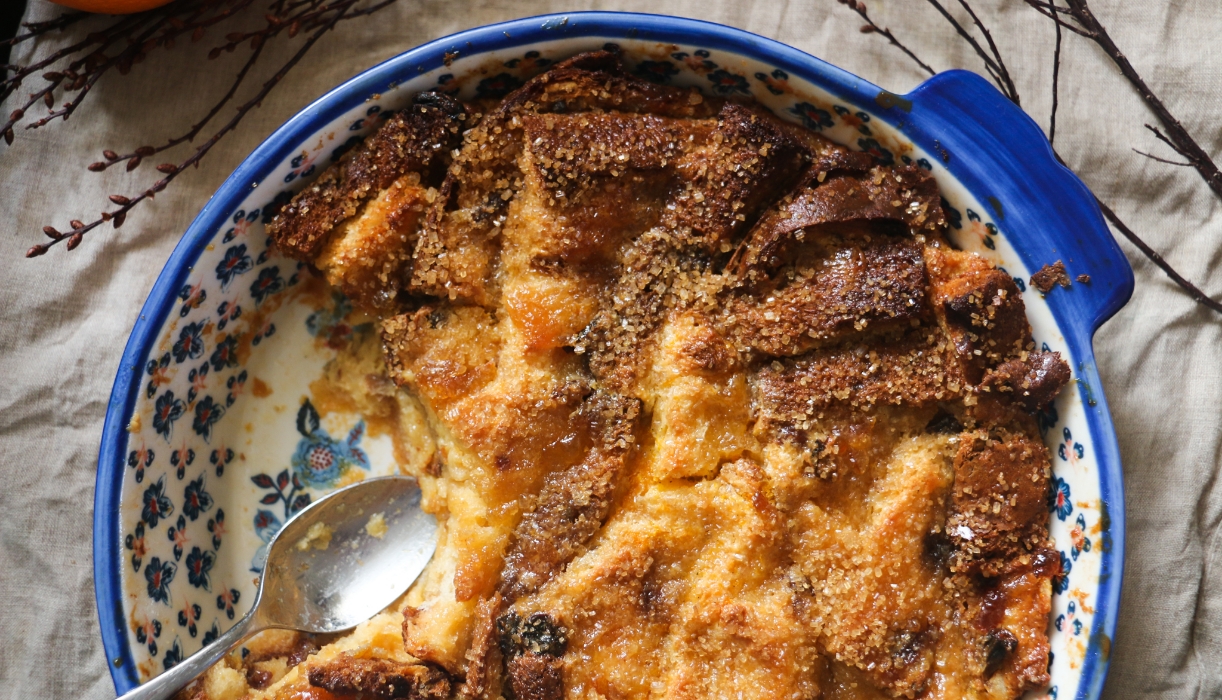 Serves 6-8
I N G R E D I E N T S
1 large panettone, approx. 600g-700g
300g orange marmalade
300ml whole milk
300ml double cream
2 tsp. vanilla paste
1 orange, zest
6 egg yolks
150g caster sugar
Unsalted butter, to grease
Demerara sugar, to sprinkle
M E T H O D
1. Grease a 30x20cm oven dish (or something similar) with a little butter.
2. Slice your panettone into 1cm pieces. Spread marmalade onto each slice, cut into quarters and arrange into your prepared oven dish in an even layer overlapping each other. They can come just above the top of the dish, as they will soak and compress later on. Leave to one side while you prepare the custard.
3. Place the milk, double cream, vanilla and orange zest into a saucepan over medium heat until simmering. Whisk together the egg yolks and caster sugar. Pour in a third of the hot milk mixture into the egg yolks while whisking. Continue to add the rest of the milk into the yolks while whisking until it is all combined. Pour the orange custard over the prepared Panettone. Push down any Panettone that isn't submerged and leave to soak for 20 minutes. While it's soaking, you can preheat the oven to 150°C.
4. Once soaked, sprinkle a generous handful of demerara sugar over the top. Bake for 40 minutes or until golden brown. The pudding is done when you press the centre and no liquid custard spills out. Serve warm with pouring cream.
Lemon Cream Cheese, Harissa and Honey Crumpets
Serves 6
I N G R E D I E N T S
For the crumpet batter:
250ml whole milk
60ml water
½ tbsp. dried yeast
¾ tsp. caster sugar
190g strong white bread flour
¾ tsp. bicarbonate of soda
Vegetable oil, for frying
For the toppings:
160g cream cheese
1 lemon, zest
Pinch of sea salt
A few tbsp. of harissa paste
A few tsp. of runny honey
M E T H O D
1. Warm the milk and water until tepid. You don't want this to be too hot or it will kill the yeast! Add in the dried yeast and sugar. Give it a stir together, cover and leave for 20 minutes. Add the strong flour and bicarbonate of soda into a bowl. Add in the milk mixture and whisk everything together until smooth. Cover with a tea towel and place somewhere warm for approx. 1 hour (or until very bubbly and slightly risen.)
2. Once your crumpet batter is ready, take three 9cm rings (I like to use tart or English muffin rings) and grease with some vegetable oil. Oil a large frying pan and place the rings inside. Heat the pan and rings over medium heat until hot. Ladle in some of the batter, until the rings are about halfway full. Cook the crumpets for around 5 minutes, until little bubbles form and pop on the surface. Once most of the bubbles have set and stopped popping, flip the crumpets over for another minute to toast. Remove from the heat and set aside to cool slightly before popping out of the rings. Continue until all the batter has been used up. Eat immediately, or they can be toasted later in the morning.
For the lemon harissa topping:
3. Mix the cream cheese and lemon zest together. Take a warm crumpet or two and spoon over the lemon cream cheese. Make a well in the centre and spoon in a tsp. of harissa before drizzling over some honey. Finish with a sprinkling of sea salt and some more lemon zest if you fancy!
Watch Hope create her recipes on Instagram @bakingwithapastrychef.