From Art Deco affairs with serious architectural swoon to seaside tidal pools with ocean views, whether it's salty or steamy water you prefer, there's never been a better time to don your favourite swimwear and dive in. Travel journalist and outdoor swimming aficionado Ianthe Butt shares the inside splash …
Geothermal Glamour: Jubilee Pool, Cornwall
The UK's largest seawater pool, Jubilee Pool is an outdoor swimming icon. Famed for its triangular shape and gently curved edges, it dates from 1935, but looks slicker than ever after a revamp spearheaded by a community-led social enterprise. The traditional bathing spot, which holds 5 million litres of seawater at a couple of degrees above sea temperature, now has a geothermally-heated pool at a balmier 30-35 degrees too. Once you're done, sip Yallah coffee at the indoor-outdoor cafe.
Book pool tickets £6.00/£4.50 (adults, children), or geothermal pool tickets £11.75/£8.20 (adults, children)
Art Deco wow: Tinside Lido, Plymouth
All smart blue striped tiles and fizzing water features, this 55m-long semi-circular saltwater pool serves up Art Deco wow. A combination of Grade II-listed surrounds, bracing unheated azure waters and English Channel views add up to an unforgettable, invigorating dip during its summer opening season. While it's lengthy enough for laps, when the mercury rises it's just as lovely to bask on the sun deck with an ice cream from the cafe in hand.
Book pool tickets from £5.20/£4.15, open until 18 September 2022
Mediterranean Moment: Lido Ponty, Pontypridd
When it opened in 1927, with its Arts and Crafts design and terracotta roof tiles, Ponty Lido brought a hint of Mediterranean Riviera to the valleys of South Wales. Wales' only remaining open-air Lido, set in the Ynysangharad War Memorial Park, remains a thing of beauty thanks to a recent restoration. Retaining its original wooden changing boxes, its trio of heated pools offer everything from lane swimming to adrenaline-fuelled inflatables sessions. Pop to the visitor centre to learn about the pool's heritage, then to Caffi Lido for hearty Welsh breakfasts.
Book tickets from £2.00/ free for under 16s
Wild Swims: Walpole Bay Tidal Pool, Margate
Emerging from the ocean with the tides like a magic trick, Walpole Bay's 137m-long pool in Margate is the UK's largest tidal pool, and one of its most impressive. Covering around 4 acres, with a chalk beach floor, it was originally built during the town's 1930s heyday for visiting sea bathers. Come 2022, it's popular with a dedicated community of local swimmers who take to its chilly waters year-round, and those who love lengthy open water laps. Truly memorable, a paddle here is all about soaking up Kent's wide skies and embracing nature's rush.
California dreamin': Birch Lido, Hertfordshire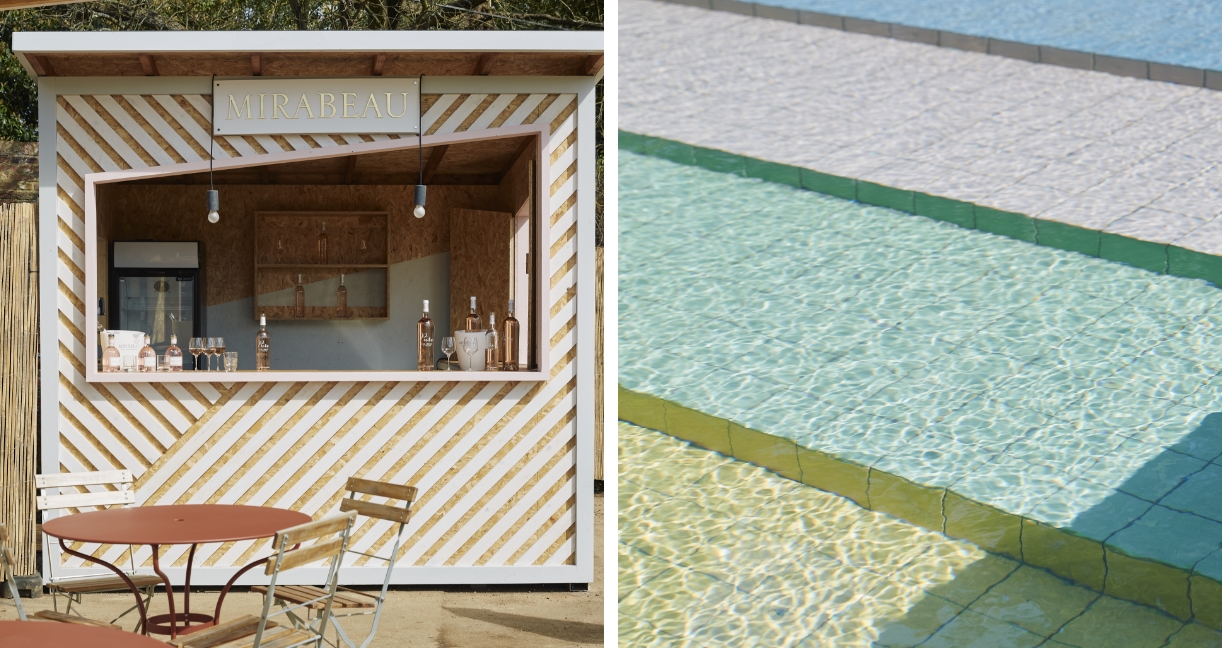 Tucked inside a wildflower-filled walled garden ringed by woodland, the 25m lido at Birch hotel is a restorative spot. The bohemian-feel pool takes its design cues from David Hockney's Californian pools of the 1950s, with sherbetty pastel tiles on its base and sides which give a rainbow-at-the-shoreline look. Open for sunrise swims from 7am, take a dip before or, in between attending a creative masterclass from Birch's ever-changing roster, think foraging with wild ingredients expert Flavour Fred, or notebook binding with Hanbury Press, before supper at the excellent Zebra Riding Club.
Rooms from £140, room-only, masterclasses extra