Three dishes by the sisters putting Sicilian cooking on the map
When reminiscing about our favourite trips, most of us wax lyrical about the weather, the scenery and – most importantly – the food. Whether it's a bowl of spaghetti you ate next to the Colosseum or the ice cream that reminds you of family holidays in Cornwall, food has a unique way of taking us back to warmer climes and happier times – something Emilia Strazzanti knows well.
"Food transports you to a moment and a memory," she says. "I always say that every empty plate tells a story – of that moment, of that country, or that time in history".
Emilia is one of the three sisters behind Strazzanti, a cooking collective bringing a sprinkle of Sicily to every plate. As the self-professed "youngest sister who was obsessed with food", she was inspired to found the business after the siblings' Sicilian grandparents passed away, and Emilia realised that if she didn't find a way to record and share their family's recipes, they would be lost, too.
"I grew up learning to cook from my grandparents," she says. "So much of my inspiration comes from their land, ingredients, memories, and traditions. Everything I cook is about making sure these memories are passed onto the next generation".
Despite being inspired by her homeland, a home cook Emilia is not. She's been a professional chef since she was 16, with stints at impressive restaurants such as The Dorchester in Paris, where the Michelin-starred Anton Mosimann taught her everything she knows about pastry. (And he did a great job – her pistachio cake is, without exaggeration, to die for).
The first version of Strazzanti was a deli, before it became a London-based supper club and online food store. Now, it has returned to Sicily, where Emilia runs food, wine and cooking experiences that connect visitors with the country beyond the tourist trail.
"Sicilian cuisine is simple and seasonal," she says. "When I cook, I keep things fresh and let the ingredients speak for themselves".
Below, Emilia has shared three of her favourite summer recipes that you can easily make at home: juicy, breadcrumb-filled chicken skewers, a fresh, tangy salad, and a Sicilian take on the classic lemon posset. "Don't overthink things!" she says. "At the end of the day, you're cooking at home for people you love and care about, and that's the most important thing to put your energy into."
Involtini di Pollo Spiedini
"We discovered this recipe whilst in Trapani and have never looked back. I love the savoury element the bay leaves give to this dish. It perfectly embodies the north African influences in Sicilian cuisine. It's delicious hot straight from the oven or cold as part of a picnic or aperitivo."
I N G R E D I E N T S Serves 4–6
4 chicken breasts
12 bay leaves
Olive oil
For the filling:
50g soaked and drained raisins
50g blanched whole almonds
75g provolone or Pecorino cheese
75g fresh breadcrumbs
75ml extra virgin olive oil
1 red onion
4 wooden skewers soaked in cold water
M E T H O D
To prepare the filling, place your raisins in hot water and leave to soak for 10 minutes. Chop the red onion finely and sauté in olive oil until sweet and caramelised. Leave to cool.
In a food processor, add the almonds and blitz. Then add your cheese, cooked and cooled red onion and fresh breadcrumbs into the mixer and blitz. Loosen the mix with the olive oil. You don't want the mix too loose, but not too compact either. Season with a pinch of salt.
To assemble the involtini, butterfly the chicken breasts and flatten until around 0.5cm in thickness. Flatten the chicken breasts by placing the chicken in between 2 layers of cling film and using a rolling pin bash until it reaches the desired thickness.
Take the filling and spread evenly over all 4 butterflied chicken breasts and roll to create an involtini. Slice each rolled chicken breast in half to create 8 involtini.
Take the soaked skewers and alternately pierce 2 chicken involtini with the fresh bay leaves on each skewer, making 4 skewers. Place on a baking tray, brush with olive oil and cook for 20–25 minutes in a preheated oven at 180℃ , until the chicken is thoroughly cooked.
Insalata Catanese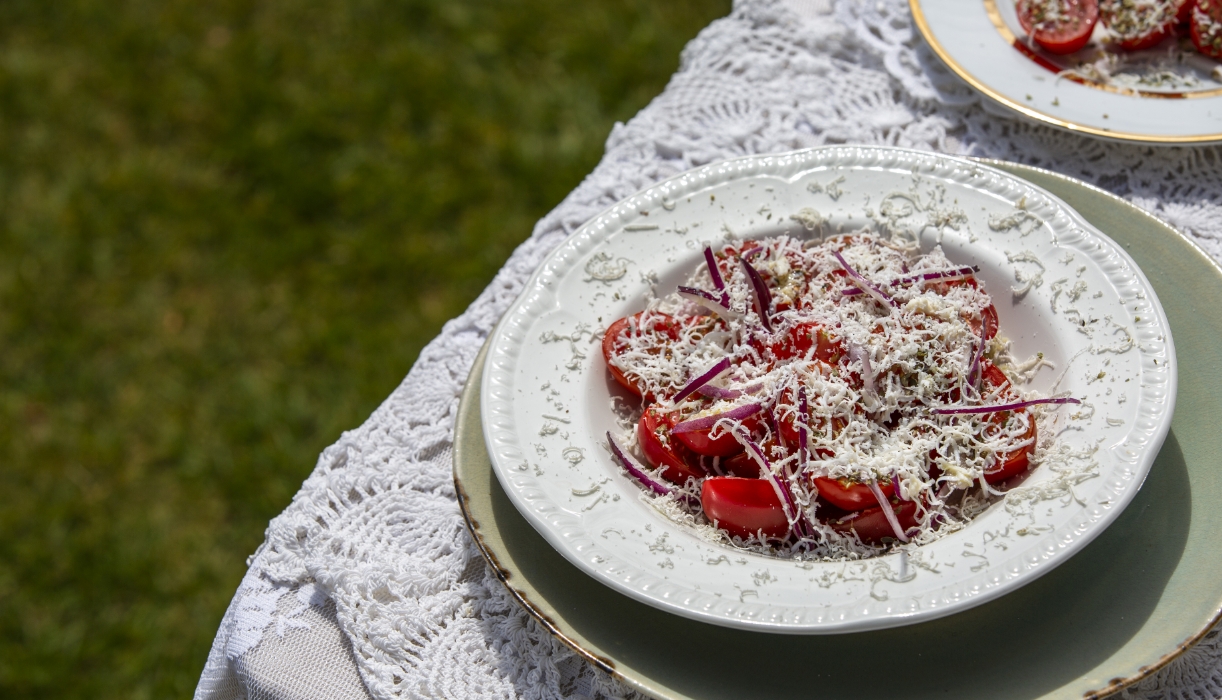 "A fresh vibrant salad, originating from Catania on the eastern coast of Sicily. This is a robust salad with strong, salty ricotta salata cheese (salted ricotta) surrounding the well-balanced sweetness of red onion and acidity of tomatoes – perfect for a side salad with meat or fish (like the above)."
I N G R E D I E N T S
400g cherry tomatoes
½ red onion
1 tsp dried oregano
25g ricotta salata
2 tbsp extra virgin olive oil
Sea salt
M E T H O D
Finely slice the red onion and place in a bowl filled with cold water and leave to soak for 10 minutes. After 10 minutes, drain and refresh the water and leave for a further 10 minutes to soak.
In the meantime, in a mixing bowl, add the extra virgin olive oil, 2 pinches of sea salt and the dried oregano and mix well together. Wash and slice the tomatoes in half, and mix through the olive oil and oregano dressing.
To assemble the salad, take a serving dish and scatter in the dressed cherry tomatoes, sprinkle over the drained finely sliced red onion and generously cover with thick gratings of ricotta salata cheese.
Sicilian Lemon & Pistachio Posset
"Lemons are not Real Lemons unless they are Sicilian" is an old Sicilian saying… We're taking a classic British dessert and adding our Sicilian twist with this creamy, citrusy Lemon & Pistachio Posset. It is so simple to make and perfect to put together the day before – so when your guests arrive for lunch or dinner, you don't have to do a thing but just serve!
I N G R E D I E N T S Serves 6
600ml double cream
125g caster sugar
The juice of 2 large Sicilian lemons
150g lightly roasted pistachios, chopped
M E T H O D
Place the cream and sugar into a large saucepan and bring to a gentle simmer.
Once the cream has boiled, remove from the heat and whisk in your lemon juice and add in 75g of the chopped pistachios, mixing well together.
Pour the mixture into serving glasses and top with the remaining chopped pistachios and place in the fridge overnight to set.
Simply serve the next day, adding crunchy biscotti on the side too if you like!