To BBQ or not to BBQ? These vegetarian recipes by Social Pantry are perfect for sharing
There are only a few days to go until we can finally eat with friends inside again—and we're not complaining about it. Over the last year, we've had picnic after picnic after picnic, interspersed with a few barbecues, for good measure. In fact, we couldn't be happier that indoor dining is finally returning (if only to show off our gorgeous lockdown purchases that have been firmly hidden under puffas and jumpers throughout part one of The Grand Reopening).
However, on a blisteringly hot day, you can't beat an evening of eating outside—particularly if the rule of six allows us to decamp into the living room if the weather takes a nosedive. And if anyone knows a thing or two about serving up an (edible) alfresco storm, it's Social Pantry.
The London-based catering company specialises in creating fresh, delicious dishes designed to share. They've fed a seriously impressive roster of celebrities, including Hillary Clinton, Gigi Hadid and the big man himself, David Attenborough.
We couldn't think of anyone better to inspire our outdoor eating pursuits this summer. So, we've asked them to share three of their favourite recipes that you can either do on a griddle pan or, preferably, a barbecue—and they're all vegetarian, too…
British asparagus and quinoa salad
INGREDIENTS
Serves 4
250g white quinoa
300g asparagus
200g petit pois, defrosted if frozen
1 small bunch mint
1 small bunch chives
1 bunch radishes, washed
2 tbsp toasted sunflower or pumpkin seeds
For the dressing:
1 lemon, zested and juiced
6 tbsp natural yogurt
2 tbsp honey
1 tsp ground cumin
Pinch of sea salt
METHOD
Fill a pan with 750ml of water and bring to the boil, seasoning the water well with fine salt. Rinse the quinoa thoroughly in a sieve under cold running water and then add to the boiling water. Turn the heat down and simmer for 8-10 minutes.
Snap the asparagus at its natural point to remove the woody end. Shave half the asparagus with a mandolin or peeler and dress in a bowl with a little olive oil sea salt. Meanwhile, heat a griddle pan over a high heat, and toss the rest of the asparagus in oil and season with sea salt. When the pan is hot, add the asparagus and don't move it until dark griddles lines have marked it, turning each one over to cook the other side. Place on a tray in the fridge to cool down quickly.
When the quinoa is cooked, strain off any remaining liquid and spread it out on a tray to cool down fully before mixing the salad.
While the quinoa is cooling down, finely chop the chive and pick the mint leaves, leaving them whole. Then, make the dressing by whisking all the ingredients together and chopping the radish into chunks.
In a large bowl, mix all the ingredients together with the dressing and taste before adjusting the seasoning. Garnish with a handful of toasted seeds.
Barbecued sweet potato steak with zero waste pesto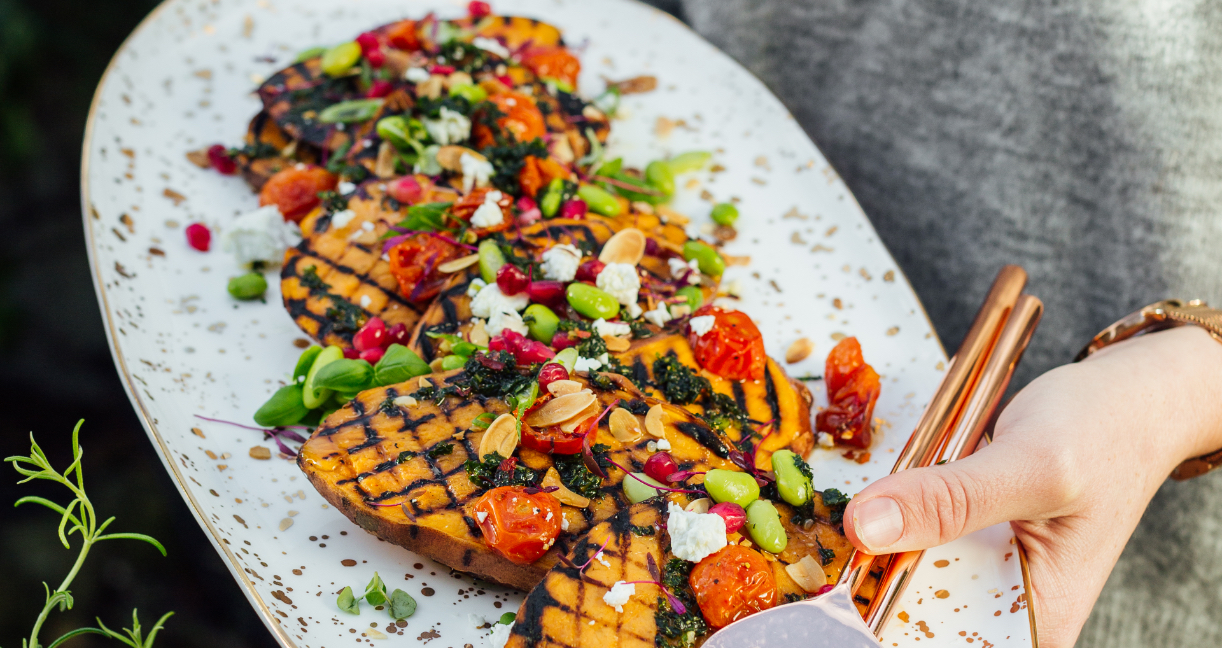 INGREDIENTS
Serves 4
2 sweet potatoes
200g feta, crumbled
1 pomegranate, seeds removed
For the pistachio pesto:
100g pistachios
1 bunch basil, including the stalks, roughly chopped
1 bunch mint, leaves removed
20g parmesan, finely grated
1 clove garlic
1 lemon
60-80ml olive oil
Sea salt
Tip for zero waste pesto: you can use other soft herbs alongside some basil. Leftover rocket adds a peppery punch, pine nuts can be replaced for seeds or nuts you already have in your cupboard, and the parmesan can be replaced by pecorino or any other Italian hard cheese.
METHOD
Heat up a barbecue or griddle pan. Wash the sweet potatoes and slice lengthways at 1.5cm intervals. Drizzle with a little olive oil and season with sea salt.
In a blender, blitz together the basil, mint, parmesan, garlic, lemon juice and zest and 75g of the pistachios. Slowly pour in the olive oil. Transfer to a bowl and set aside.
Once the barbecue or griddle pan has heated up, lay the sweet potato steaks onto the grill. Rotate them 90 degrees once griddle lines have formed. Turn each one over and repeat the process on the other side.
To serve, lay the sweet potato steaks on a plate and drizzle with zero waste pesto. Crumble the feta over the top and sprinkle with the pomegranate seeds and leftover chopped pistachios.
Grilled peaches with honey mascarpone
These are best cooked once the barbecue has died down after dinner and served on a sharing plate down the middle of the table.
INGREDIENTS
4 peaches, halved and pitted
Drizzle of olive oil
200g mascarpone
2 tbsp double cream
1 tbsp honey
100g toasted flaked almonds
2 sprigs fresh thyme, leaves removed
METHOD
Heat the barbecue or griddle pan to a medium heat.
In a bowl, loosen the mascarpone with the double cream and add the honey to sweeten.
When the barbecue or griddle pan is ready, rub the cut side of each peach half with olive oil and place it flat down on the grill. Once each slice is charred and softened, place it cut side up on a plate. Allow them to cool slightly for a few minutes before spooning the honey mascarpone on top and sprinkling with the toasted flaked almonds and fresh thyme leaves.