The ultimate palate cleanser - whether you're team sweet or sour, after a classic zingy lemon tart or showstopping blood orange crème brûlée, there's no denying the bright flavour zesty fruits bring to sweet treats!
All sharp, exotic and citrus-inspired, we've rounded up our favorite zest-filled dessert recipes for you to try...

Grapefruit Curd & Olive Oil Tart
Serves 6-8
I N G R E D I E N T S
For the Tart Shell:
1 1/2 cups (250g) plain flour
125g butter, chilled, chopped
1/3 cup caster sugar
1 egg yolk
1 tablespoon chilled water
For the Grapefruit Curd:
2 grapefruit
3/4 cup caster sugar
2 teaspoons cornflour
2 whole large eggs plus 2 large yolks
65g unsalted butter, cut into cubes
2 tablespoons fruity olive oil
M E T H O D
Combine flour, butter and sugar in a food processor. Process until mixture resembles fine breadcrumbs. Add yolk and chilled water. Process until dough just comes together.
Turn pastry onto a lightly floured surface. Knead until just smooth. Shape into a disc. Wrap in baking paper and refrigerate for 30 minutes.
Spread dough evenly over the bottom and up the sides of a 35cm rectangular bottom tart tin and chill until firm, about 30 minutes.
Preheat oven to 200°C. Blind bake pastry for 12 minutes then remove weighting and bake until golden brown all over, a further 5 minutes. Transfer to a rack to cool completely, about 30 minutes.
Grate enough zest from the grapefruit to measure 1 tablespoon, then squeeze 3/4 cup juice from grapefruit. Whisk together zest and juice, sugar, cornflour, whole eggs, and yolks in a medium saucepan and bring to a boil over medium heat, whisking constantly. Boil, whisking, 2 minutes.
Remove from heat and whisk in butter and oil until smooth. Pour grapefruit curd into cooled shell and chill until set, at least 2 hours.

Recipes from My Weekend Table, photography by Manja Wachsmuth

Crème Brûlée with Caramelized Blood Oranges
Serves 6-8
I N G R E D I E N T S
3 cups heavy cream
1/2 cup granulated sugar
1/8 tsp kosher salt
1 vanilla bean
8 egg yolks
For the caramelized blood oranges:
2 blood oranges
1/4 cup granulated sugar
2 tbs water
6 to 8 tsp turbinado sugar
M E T H O D
Preheat an oven to 300°F. Have ready 6 to 8 shallow custard cups or ramekins, each 1/2 to 1 cup, and a baking pan large enough to hold all the cups.
In a saucepan, stir together the cream, granulated sugar and salt. Split the vanilla bean and scrape out the seeds with the back of a paring knife. Add the seeds and pod to the cream mixture. Bring to a very gentle boil over medium heat, stirring constantly. Turn off the heat, cover and let stand for 20 minutes.
Meanwhile, in a bowl, whisk the egg yolks just to break them up. While whisking constantly, slowly add the cream mixture to the yolks. Pour through a fine-mesh sieve into a pitcher. Divide the mixture among the custard cups. Place the cups in the baking pan and carefully pour hot water into the pan to reach about halfway up the sides of the cups. (It's usually easiest to add the water once you place the pan on the oven rack.) Bake until the custards are just set but still jiggly, 30 to 35 minutes.
Carefully remove the custards from the water bath, place on a wire rack and let cool to room temperature. Cover with plastic wrap pressed directly onto the surface of the custards to prevent a skin from forming. Refrigerate until the custards are thoroughly chilled, at least 2 hours or up to 2 days.
To make the caramelized oranges, trim the ends from each orange, then remove the peel with a paring knife, following the contour of the fruit and making sure to remove all the white pith. Cut each orange crosswise into thin slices, removing any seeds as you go. In a saucepan, stir together the granulated sugar and water. Cook over medium-high heat, swirling the pan occasionally, until the syrup turns a deep amber caramel. Immediately remove from the heat, add the orange slices and swirl the pan to coat them evenly.
Just before serving, preheat a broiler. Sprinkle each custard with about 1 tsp. of the turbinado sugar, covering the surface with a thin, even layer. Place the custards on a baking sheet and slide into the broiler about 3 inches from the heat source. The sugar will melt quickly and caramelize; watch carefully so that the custards do not burn. Alternatively, melt and caramelize the sugar with a kitchen torch according to the manufacturer's instructions. Set the custards aside to harden for a few minutes, then top with some of the caramelized oranges.
Recipe & photography by Williams-Sonoma Taste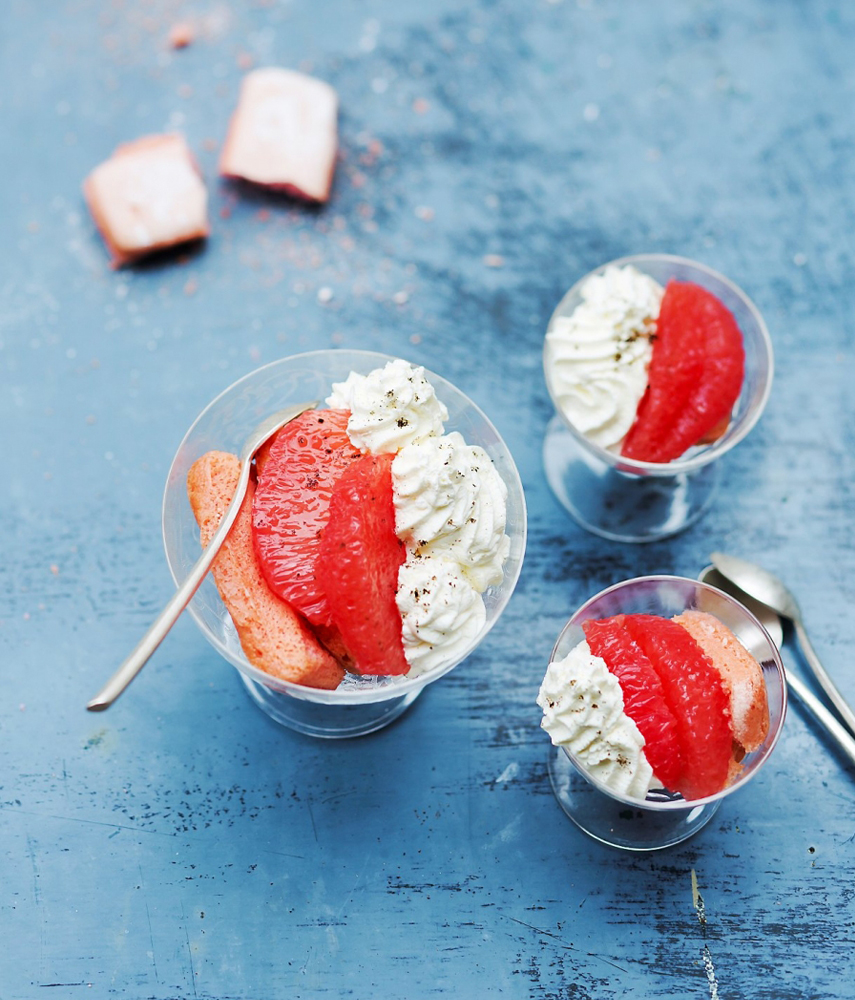 Tiramisu with Pink Pomelos & Tea
Serves 4
I N G R E D I E N T S
2 Pomelo
200g Cream flower
200g Mascarpone
60g Powdered sugar
1 Vanilla Bean
1 Pack Biscuit Rose Reims
30cl Earl Gray Tea
M E T H O D
Infuse the tea in hot water. Cut the vanilla bean in 2, pick the seeds inside. Whisk the mascarpone with the sugar and vanilla seeds for a few minutes.
In a salad bowl, whisk the cream into a whipped cream. Place whisks, container and cream in the freezer half an hour before whipping. Whisk the cream gently, at a low speed, to prevent it from trapping too much air. You can accelerate towards the end. Then add the mascarpone cream in several portions.
Take the supreme pomelos. Remove all the skin of the grapefruit from the top of the fruit after cutting both ends. Cut facets around the edges of the citrus fruits. Untie the quarters one by one, sliding the blade of a knife between the white membrane and the fruit quarters.
Garnish the bottom with 4 mascarpone cream verrines, cover with a layer of cookies soaked very quickly in the tea, place over some segments of pomelo, then cover with mascarpone cream. Repeat and finish with grapefruit.
Place in the fridge for at least 3 hours. Enjoy cold.
Recipe by Mélanie Martin for Regal Magazine, photography by Emanuela Cino

Pistachio, Coconut & Lime Cheesecakes
Serves 6
I N G R E D I E N T S
For the Base:
1 cup medjool dates
½ cup desiccated coconut
½ cup almonds
½ cup pistachios
3 tablespoons coconut oil
½ teaspoon cinnamon
pinch of salt

For the Filling:
2 cups cashews soaked overnight in water
¼ cup coconut oil
1 cup coconut cream
1½ cups desiccated coconut
2 limes juiced
1 grated rind of a lemon
1 teaspoon vanilla
¼ cup maple syrup or brown rice syrup

To Garnish:
Crushed pistachios
Lime
Grated lime rind
M E T H O D
Line your square cake tin with baking paper and set aside. Blend all base ingredients, scoop out into baking tray and press down with your fingers then place in freezer.
Blend all filling ingredients until creamy, pour onto base, smooth over with the back of a spoon and place in freezer for at least 4 hours or you can leave overnight.
Take out of freezer and cut into squares. Top with your garnish and enjoy! Store in the fridge or freezer.
Recipe & photography by Tiana Haines for Life of Goodness

Tamarind & Lemon Tart with Salted Peanut Praline
Serves 8
I N G R E D I E N T S
⅓ cup lemon juice
2 tbsp tamarind concentrate
3 eggs
½ cup raw caster sugar
200ml pouring cream
For the Shortcrust Pastry:
1½ cups plain flour
1 tsp salt
⅓ cup icing sugar
125g cold unsalted butter, chopped
1 egg yolk
For the Salted Peanut Praline:
¾ cup raw caster sugar
2 tbsp roughly chopped roasted peanuts
2 tsp sea salt flakes
M E T H O D
Preheat oven to 180°C. To make the shortcrust pastry, place flour, salt, icing sugar and butter in the bowl of a food processor. Process until fine breadcrumbs form. Add egg yolk and 2 tablespoons iced water; process until a dough forms. Shape dough into a flat disc, wrap in plastic wrap and refrigerate for 30 minutes.
Roll pastry between sheets of baking paper until large enough to line a lightly greased 22cm-round 2cm-deep loose-based tart tin. Line the tin with pastry; freeze for 30 minutes.
Trim the pastry, blind bake for 15 minutes. Remove paper and baking beans and cook for a further 10 minutes or until the pastry has dried out. Set aside to cool.
Reduce oven to 160°C. Place lemon juice, tamarind, eggs, sugar and cream in a bowl and whisk until combined. Stand for 5 minutes.
Add tamarind filling to the pastry case. Bake for about 30 minutes or until the filling has just set. Allow to cool to room temperature then refrigerate until cold.
To make the salted peanut praline, increase oven to 200°C. Sprinkle sugar on a large baking tray lined with non-stick baking paper and bake for 15-18 minutes or until sugar is melted and golden. Sprinkle over peanuts and salt.
Allow to cool completely. Break praline into shards; serve with the tart.
Tip: The salted praline would be great with macadamia or cashew nuts.
Recipe & photography by MiNDFOOD