And they're not margaritas, either
We can't help but notice a load of "world this day" and "national that day" celebrations kicking around lately. While we're happy to dismiss most of them as mere marketing inventions ("National Pack Your Lunch Day", we're looking at you), all of our principles go out of the window when it comes to one day in particular. Yep, we're talking about World Cocktail Day.
Now, while we'd happily never hear the words "lockdown" or "WFH" ever again, we must admit that the last year has presented us with the opportunity to learn a thing or two about making a good cocktail. Actually, scratch that; we reckon we're ace at it. Espresso Martini? Nailed it. Margaritas? In the bag. Negroni? Better than you'd buy in a bar*.
And even while we can now officially head to real bars to drink real drinks made by real bartenders (who'd have thought?), we're still not ready to pack away our hastily bought cocktail shakers and fancy liqueurs.
So, we've got not one, not two, but eight super-simple cocktail recipes that are all twists on the originals – think Espresso Margaritas, colour-changing gin and a chocolate orange spritz. All you need is the shaker…
*According to the entirely reputable, unbiased source: us.
Like Espresso Martinis? Try an Espresso Margarita
A twist on a classic, this bold and creamy concoction involves Cointreau, tequila and lime – as well as, of course, coffee. Recipe by Cointreau.
INGREDIENTS
30ml Cointreau
50ml Tequila
15ml fresh lime juice
1 bar spoon of coffee syrup
1 bar spoon orange blossom (optional)
1 dash angostura bitters (optional)

METHOD
Combine all ingredients in a cocktail shaker and add ice
Shake and strain into a sugar and salt-rimmed coupette glass
Love a Dark 'n' Stormy? Try a Damp & Drizzly
The rum in this zesty cocktail is Hawksbill Caribbean Spiced Rum – although any spiced rum will do. Mixing with orange ginger ale helps accentuate the signature spice for a well-rounded finish. Recipe by Hawksbill Caribbean Spiced Rum.
INGREDIENTS
50ml Hawksbill Caribbean Spiced Rum
200ml Fever tree spiced orange ginger ale
Half a lime sliced into quarters
½ teaspoon demerara sugar
Crushed ice
METHOD
Muddle the lime over the sugar in the bottom of a glass
Mix the sugar with the lime until a paste forms
Add crushed ice, rum and stir
Top with spiced orange ginger ale and stir lightly
If you love a G&T? Try a Pink Marmalade version
A G&T is a classic for a reason, but this cocktail is shooting straight into our 'must make' list as the gin changes from pink to green when you add the tonic – magic! Recipe by Pink Marmalade.
INGREDIENTS
50ml Pink Marmalade Gin
Fever-Tree Tonic
A dehydrated slice of pink grapefruit
Sprig of Rosemary
Ice
METHOD
Pour out a 50ml serving of Pink Marmalade Gin over ice in a balloon glass.
Add tonic to admire a colour-changing flourish!
Top with a sprig of rosemary and a slice of dehydrated pink grapefruit.
Love a tequila sunrise? Try a CIROC sunrise
Orange, citrus and lime are the key flavours in this just-released edition of the well-known vodka brand. Combine with OJ and a dash of cranberry for a summery take on a warm-weather classic. Recipe by CÎROC.
INGREDIENTS
50ml CÎROC Summer Citrus
150ml orange juice
A splash of cranberry juice
Garnish: An orange wheel
METHOD
Mix all ingredients and serve
Like margaritas? Try an In Hot Water
This creamy cocktail turns up the heat with strawberry flavoured tequila liqueur, birdseye chilli and watermelon juice – not one for the faint-hearted. Recipe by Tequila Rose.
INGREDIENTS
50ml Tequila Rose
75ml watermelon juice
Half birdseye chilli
5-6 basil leaves
Dash plum bitters
METHOD
Add all the ingredients to a cocktail shaker and mix with crushed ice
Serve in a tall glass and garnish with a slice of watermelon and basil
Like an Old Fashioned? Try a Short & Fruity
The smokiness of whiskey is balanced by the sweetness of nectarine and apricot in this fruity concoction. To make your nectarine syrup, simply chop very ripe nectarines, leave overnight covered in sugar, and then press and strain. Recipe by Benriach.
50ml Benriach The Smoky Ten
10ml apricot liqueur
10ml nectarine syrup
20ml lime juice
Splash of soda water
Nectarine slice and an edible flower, to garnish
METHOD
Shake all ingredients and strain into an ice-filled rocks glass
Aperol Spritz fan? Try a Jaffa Cake Spritz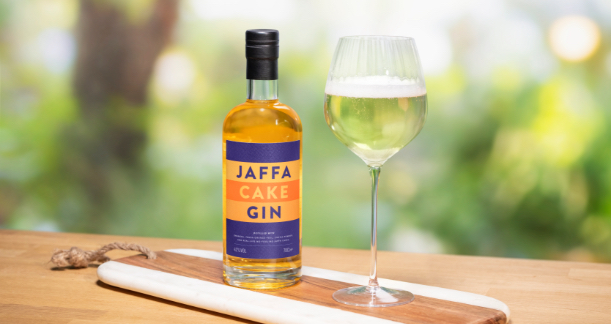 The British love affair with all things chocolate orange continues with this sweet twist on the Italian classic. Recipe by Jaffa Cake Gin.
INGREDIENTS
25ml Jaffa Cake Gin
50ml sparkling wine
75ml soda water
METHOD
Add ingredients to a wine glass and give a gentle stir to mix
Love a mojito? Try a Honey Mojito
Swap the rum for honey in this tropical classic for a refreshing – and alcohol-free – rendition of one of our favourite summer tipples. Recipe by Rowse Honey.
INGREDIENTS
5-6 leaves of fresh mint
1 lime cut into 6 wedges
2 tbsp Rowse Honey
1/2 cup soda
Ice cubes
METHOD
Place mint leaves and 3 lime wedges into a glass. Crush together to release the mint oils and lime juice. Add 2 more lime wedges and the honey and mix again.
Fill a cocktail glass with ice cubes, the more the better! Pour the soda over the ice.
Stir, taste and add more honey if needed. Garnish with the last lime wedge.