Time to brush off your bartending skills and give gin-inspired cocktail making a spin with the help of our friends and experts at Sipsmith!
From a classic winter cocktail with a twist (enter seasonal Sloe Gin..) to a fireside sing-a-long-inducing favourite, and a show stopping New Year's appropriate concoction - here's three drinks worth celebrating with over the festive season... cheers!



Winter G&T
I N G R E D I E N T S
25ml London Dry Gin
20ml Sloe Gin
Great quality tonic
Orange
M E T H O D
Fill a highball with ice. Add 25ml of Sipsmith London Dry gin.
Top with a great quality tonic (like Fever-Tree). Drizzle 20ml Sipsmith Sloe Gin on the top.
Garnish with a fresh wedge of Orange.

Chestnut Martini
I N G R E D I E N T S
50ml London Dry Gin
7ml Chestnut Syrup
2 Dashes Angostura Bitters
Green Chartreuse Rinse
Glacé Cherries
M E T H O D
Combine all ingredients except the Chartreuse in an ice filled mixing glass, stir well.
Rinse a chilled coupette with Green Chartreuse. Double strain into the glass.
Garnish with glacé cherries.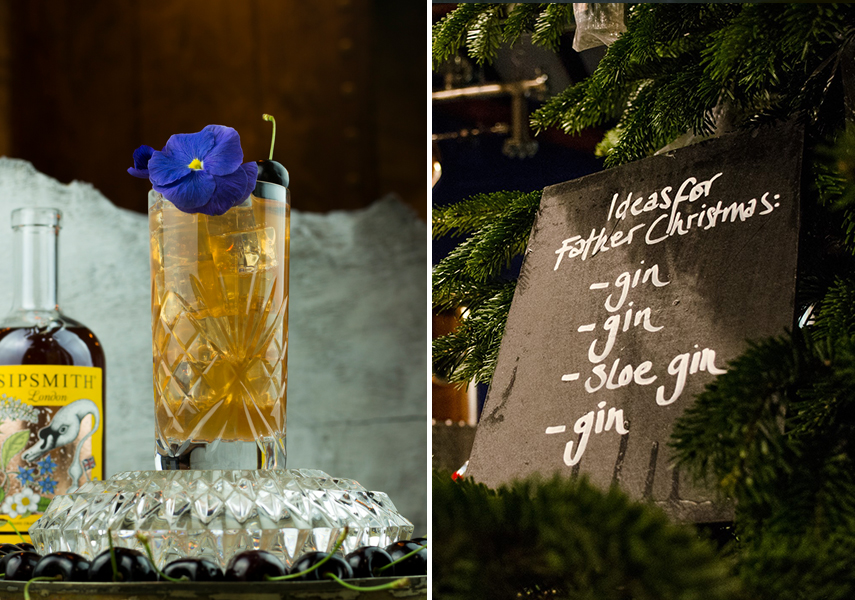 C'est Chic
I N G R E D I E N T S
40ml London Cup
20ml Cherry Brandy
20ml Lime Juice
Ginger Ale
Edible Flower
M E T H O D
Build in an ice-filled glass and stir.
Garnish with an edible flower!


Recipes & photography by Sipsmith.