From Turkish Delights to blinis and biscotti, these bite-sized festive recipes are inspired by books
We're a bunch of bookworms here at hush HQ. And now that we'll be spending even more time indoors this winter, the prospect of getting lost in a brilliant book for a few hours has never sounded so appealing. The literary scenes we're most enthralled by? Ones involving food, of course.
It's something we have in common with food writer Kate Young. Back in 2014, Kate launched The Little Library Café, her blog where she posted creative recipes for the fictional food found in her favourite books.
Her first recipe was a recreation of the treacle tart that Harry Potter devours during a feast at Hogwarts (a fine choice, we might add) and she went on to read, cook and write regularly. A year later, her blog was picked up by The Guardian and, in autumn 2017, her fir­­­st recipe book, The Little Library Cookbook, was published.
From a Victoria sponge inspired by Jane Austen's Emma to a recreation of the Jollof rice in Chimamanda Ngozi Adichie's Americanah, Kate's literary-focussed recipes have now won her a legion of fans – and several book deals.
This month sees the release of her third cookbook, The Little Library Christmas, which features over 50 recipe ideas accompanied by the literary passages that inspired them. These pages are filled with the food and stories designed to capture the magic of the festive season.
"Like so many Christmas traditions – hanging stockings, dressing the tree, making gingerbread houses – there is an unmistakably childlike joy intrinsic in the celebration of these scenes," says Kate. "There is something truly magical about Christmas that invites us to shelve our cynicism, to lean into the joy, to find reasons to celebrate."
You may have already seen Kate's Breakfast Buckwheat Blinis inspired by Little Women in our Winter print issue of Life etc., but Kate has also shared two more recipes with us: Turkish Delight, as served by the White Witch of Narnia, and Almond and Pistachio Biscotti, inspired by Tolly's gifts in The Children of Green Knowe. Both are bite-sized treats perfect for Christmastime (or any day you feel the need for a little literary-inspired indulgence).
The Little Library Christmas (£15, Head of Zeus) by Kate Young is available now.
Buckwheat Blinis from Little Women
The March sisters' breakfast, the one they end up giving away, is a memorable spread. I grew up watching the 1994 film, and I can still see Winona Ryder reach for a sausage before they're sitting around the table, and Kirsten Dunst with an orange tucked under her chin. But it's the buckwheats, little Civil War-era pancakes, that I fancy for my Christmas breakfast. The March girls didn't have salmon, but I see no reason for us to recreate their breakfast too faithfully, especially if you have any gravadlax leftover from the day before.
INGREDIENTS
Enough for 8 blinis
60g buckwheat flour
60g strong white bread flour
A pinch of salt
A pinch of sugar
100ml milk
10g fresh yeast (or 3g fast-action yeast)
75g sour cream
1 egg yolk
2 egg whites
30g butter
TIP: I like the flavour of fresh yeast here, but if you can't get hold of it, easy/fast-action is great too.
To serve
Smoked salmon, or leftover gravadlax
100g sour cream
Dill sprigs
Juice of 1 lemon

For the mascarpone cream
100g mascarpone cheese
50ml double cream
25g icing sugar, sifted
1 tsp vanilla extract
METHOD
Whisk together the flours, salt and sugar in a mixing bowl. Warm the milk to body temperature (37°C) in a saucepan, then stir in the yeast until it dissolves. Whisk in the sour cream, and the egg yolk.
Pour the liquid ingredients into the flour and whisk thoroughly. Cover the bowl with a tea towel and put it in a draught-free place to rise for an hour – the batter should almost double in size. After an hour, beat the egg whites to stiff peaks, and then fold them into the frothy mixture. Cover with the tea towel again and leave for another hour. The mixture should be very light and full of bubbles – almost like a foam.
Once the batter has risen, warm half a tablespoon of the butter in a frying pan.
Without stirring the mixture (you want to retain the lightness), drop teaspoons of the batter into the pan. When the top of a blini is covered with bubbles, flip it over. Cook the blinis in batches until all the batter is used up, adding more butter when needed.
Serve each blini warm, with a twist of salmon, a dollop of sour cream, a sprig of dill, and a squeeze of lemon. They can be warmed through in the oven, but are best fresh, if you can serve them straight away.
Turkish Delight from The Lion, The Witch and The Wardrobe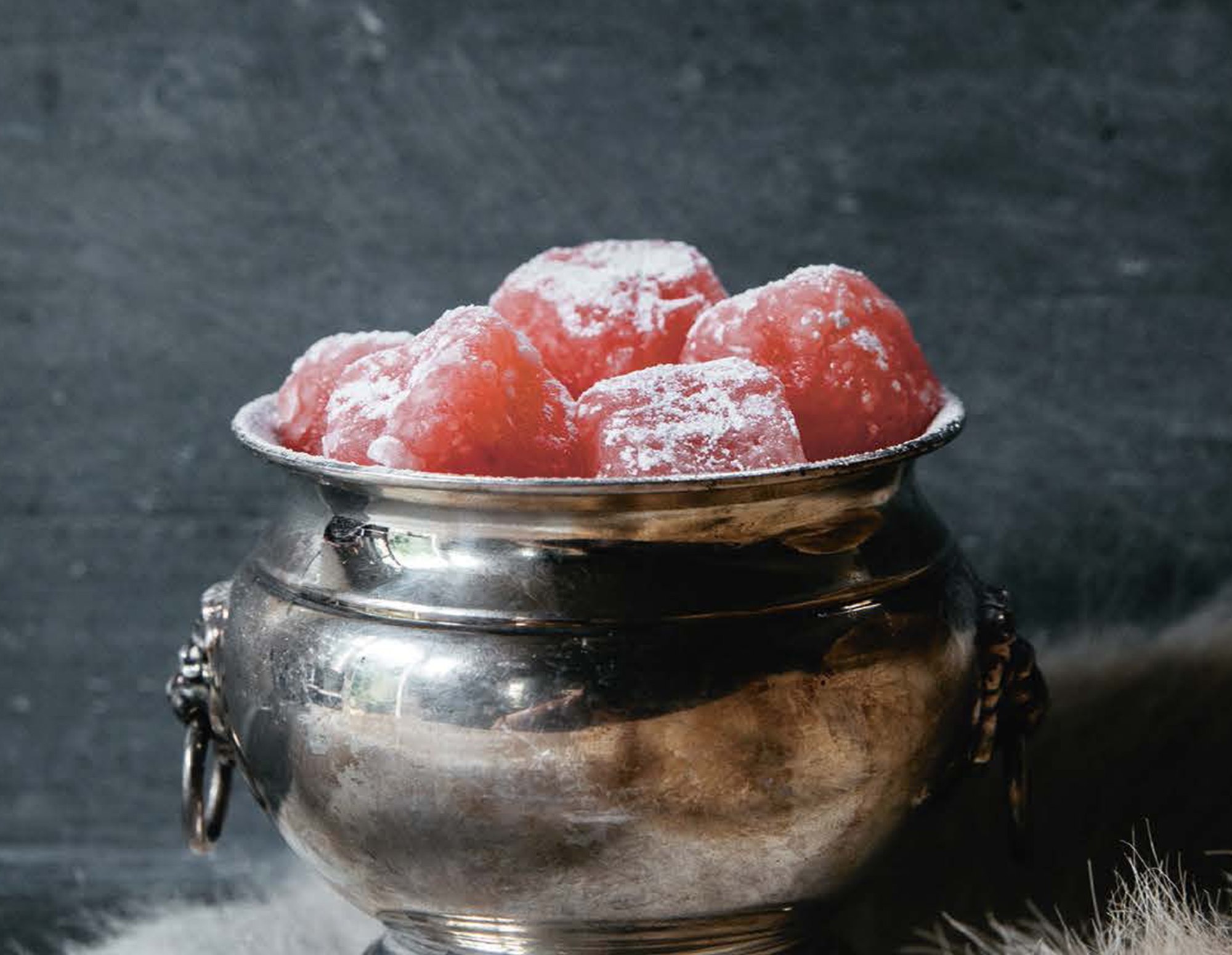 During Edmund's first visit to Narnia he finds himself wrapped in furs on the White Witch's sleigh. At this point in the story, of course, it is still always winter but never Christmas. Yet, in spite of this, that image of the snow and the sleigh means that the squidgy pink squares of Turkish Delight that she plies him with make most sense to me as a festive treat. To abandon your siblings in hopes of a kingship takes something pretty memorable; happily, Turkish Delight delivers.
INGREDIENTS
Makes around 30 squares
450g granulated sugar
1 tbsp lemon juice
475ml water
90g cornflour/cornstarch
½ tsp cream of tartar
1 tbsp rosewater
Pink food colouring (ideally paste)
To decorate
40g cornflour/cornstarch
40g icing/confectioners' sugar
Edible glitter (optional)
Equipment
Small, straight-sided baking pan (mine is 20x12cm/8x4¾in)
METHOD
Place the sugar and lemon juice in a small saucepan with 175ml/¾ cup of the water. Put the pan over a medium-low heat and stir until the sugar has dissolved. Once the liquid is clear, stop stirring and heat until the sugar syrup reaches 118˚C (around 15 minutes).
Line the baking pan with plastic wrap, smoothing the base and sides as much as possible. Sift the cornflour and cream of tartar into a saucepan, along with the remaining 300ml/1¼ cups of water. Place over a low heat and stir continuously. The mixture will start to thicken. Keep cooking it until it resembles hair gel – thick and gloopy.
Stirring constantly, slowly pour in the hot sugar syrup. Continue to stir over a low heat for around an hour. The mixture will look strange (and separated) at first, but it will come together. When it's done, it will have taken on a golden tinge and be very thick and difficult to stir. I know this is a long time to keep stirring, but I find it soothing – it's something you can do with a Christmas film playing.
Remove from the heat and beat in the rosewater and food colouring. Scoop the Turkish delight into the lined baking pan – this will be messy. Smooth the top with a wet spatula and push down. Cover with a tea towel and allow it to set overnight in a cool room.
The next day, turn the Turkish delight out of the pan and peel off the plastic wrap. Wet a knife with hot water and slice into squares. To decorate, sift the cornflour and icing sugar into a shallow bowl (along with the edible glitter if you're using it). Drop the squares into the bowl and toss to coat each piece. Gift it as soon as you can after this (or add a little extra cornflour to the box before you do), as the damp squares of Turkish delight will eventually soak up the powder. Store in a cool, dry place, with greaseproof/wax paper between the layers.
Almond and Pistachio Biscotti from The Children of Green Knowe
In The Children of Green Knowe, Tolly ensures everyone – human and animal – has a Christmas gift. The Christmas tree he readies for the birds, mice and rabbits is home to all manner of edible gifts: almonds, raisins, cheese, coconut. Though there's much to be enjoyed in a gift of cheese beneath the tree, if you want to do something a little 'more' with the almonds, these biscotti are just the thing.
INGREDIENTS
Makes 24
100g almonds
50g shelled pistachios
300g plain/all-purpose flour
200g caster/superfine sugar
1 tsp baking powder
½ tsp fine salt
2–3 eggs
Zest of 2 clementines
1 tbsp fennel seeds
50g icing/confectioners' sugar
METHOD
Preheat the oven to 220°C/425°F/Gas 7. Toast the nuts in a dry pan. Don't let them colour too much; you want them to take on a little gold.
Mix the flour, sugar, baking powder and salt together in a large bowl. Beat two of the eggs with the clementine zest, and pour this in, mixing with a wooden spoon. Knead the dough, adding some of the third egg if it is too dry and crumbly. Mix in the nuts and fennel seeds.
Divide and shape the dough into two logs, and place on a baking sheet, at least 5cm/2in apart. Don't worry when they start to spread a little. Dust with icing sugar, and transfer to the oven for 25 minutes.
Once firm and cooked inside (a skewer will come out clean), remove from the oven, and reduce the heat to 180°C/350°F/Gas 4.
Allow the logs to cool a little, until you can just touch them, then cut into finger-width slices. Lay them out on a lined baking sheet, cut-side up. Bake for 15 minutes, then turn them over and give them a final 15 minutes. They should be crisp; perfect for dipping into coffee.