Cool down this summer with one of these light and refreshing drinks...
Perfect for an afternoon in the sun or an evening with friends!

Elderflower Spanish Gin & Tonics
I N G R E D I E N T S
2 oz St. George Botanivore Gin
6 oz Fever Tree Elderflower Tonic
2 pink grapefruit slices
A few juniper berries
Rosemary sprig
M E T H O D
Chill the drinking glass for a half hour. Add ice to the glass. Squeeze one slice of grapefruit into the glass and discard.
Add the other grapefruit slice, the juniper berries, and rosemary sprig to the glass. Pour gin into the glass. Add the tonic and stir before drinking.
Recipe & photography Craft + Cocktails.

Blood Orange Whiskey Cocktails
Serves 1
I N G R E D I E N T S
1 1/2 ounces whiskey or bourbon
1/2 ounce Amaro Nonino Quintessentia
2 1/2 ounces freshly squeezed blood orange juice (about two blood oranges)
1/4 ounce freshly squeezed lemon juice (about a quarter of a lemon)
1/2 ounce agave nectar
2-3 dashes orange bitters
Sprig of thyme
M E T H O D
Juice the citrus and set aside. Fill a cocktail shaker with ice. Add the whiskey, amaro, blood orange juice, lemon juice, agave nectar, and bitters.
Shake until nicely chilled. Strain and pour into a cocktail glass filled with fresh ice. Finally, squeeze the thyme sprig a few times to release its aroma and garnish!
Recipe & photography from Holly & Flora.

Grapefruit & Lime-grape Cooler with Crushed Mint
Serves 8-10
I N G R E D I E N T S
Lime-grape concentrate:
8 ounces seedless grapes (roughly 1 1/2 cups)
Juice from 1 lime
Coolers:
1 cup seedless grapes
1 bunch mint
Ice cubes
2 cans (each 11.15 oz) Sanpellegrino pompelmo beverage
1 cup grape + lime concentrate
Mint flowers or mint leaves, for serving
Frozen grapes, for serving
M E T H O D
For the concentrate:
In a blender, blend together the grapes and lime juice until completely broken down, about 30 seconds. Place a fine mesh sieve (or cheesecloth) over a clean bowl; pour the juice into the sieve and use the back of a spoon to press the juice through. Pour juice into a lidded jar and refrigerate until ready to use. Juice can be stored for up to 1 week in the refrigerator.
For the coolers:
Place a few grapes and 4-5 mint leaves in a small 8 ounce glass, use a muddler or the end of a wooden spoon to crush the grapes and bruise the mint. Fill the glass halfway with ice cubes and add 2.5 ounces of Sanpellegrino pompelmo beverage (roughly 5 tablespoons), and 1.5 ounces lime-grape concentrate (roughly 2 tablespoons), give a gentle stir and top with mint flowers and frozen grapes. Repeat the process for additional drinks.
Recipe & photography from Dolly and Oatmeal.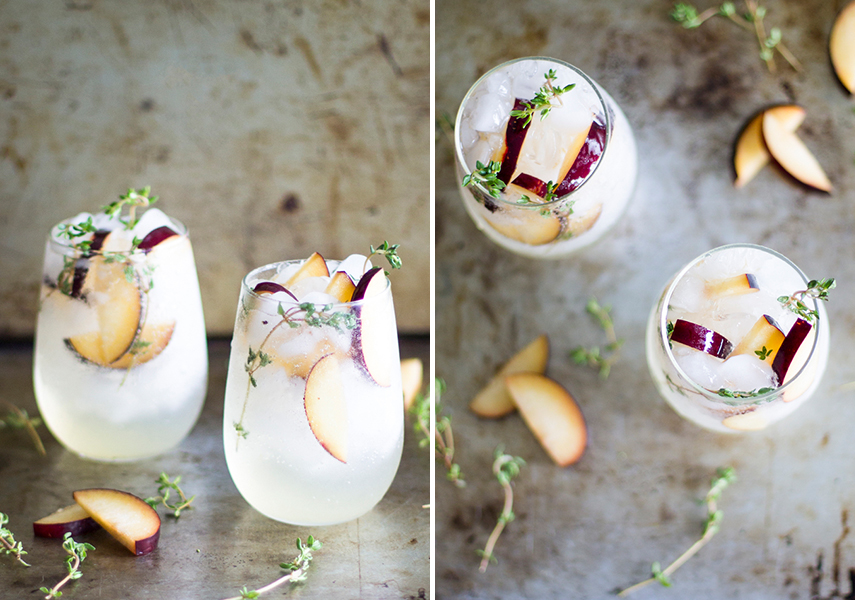 Plum & Thyme Prosecco Smash
I N G R E D I E N T S
2 Plums
6 Thyme Sprigs
Juice from one Lemon
4 Tbsp. Thyme Simple Syrup (1/2 Cup of Sugar, 1/2 Cup of Water, bring to a boil, remove from heat, add thyme sprigs, stir, and let cool. Chill until ready to use.)
1 Bottle of Prosecco or your favorite bubbly
M E T H O D
Peel and chop 2 plums. Muddle the plums with the thyme simple syrup and lemon juice until all of the plum juices have been released. (You can also muddle right in the glass if you prefer to have bits of fruit in your cocktail!)
Shake with ice in a cocktail shaker. Pour over crushed ice evenly between two glasses. Top off with prosecco and garnish with extra plum slices and thyme sprigs. Serve immediately.
Recipe & photography by My Diary of Us.

Melon Lemonade
Serves 1
I N G R E D I E N T S
Lavender-Infused Simple Syrup:
Water
Granulated sugar
Fresh lavender
Fresh Cantaloupe Lemonade:
½ cantaloupe skinned and diced
16 oz fresh lemonade
For the Lemonade:
2 oz vodka
1⁄2 oz lavender-infused simple syrup
2 1⁄2 oz fresh cantaloupe lemonade
1⁄2 oz soda
Fresh lavender sprigs
M E T H O D
For the lavender-Infused simple syrup:
Add 1 part sugar and 1 part water to a saucepan and bring to a boil. Turn off heat. Add 5-7 rinsed lavender stems and stir well. Let sit for an hour, strain, and serve.
For the fresh cantaloupe lemonade:
Add cantaloupe to a blender with a heavy splash of lemonade. Blend until smooth and add puree to remaining lemonade. Stir well.
To make the melon lemonade:
Add all ingredients into a cocktail shaker with ice, shake well, and serve on the rocks with a lavender garnish.
Recipe & photography by Flutter Magazine.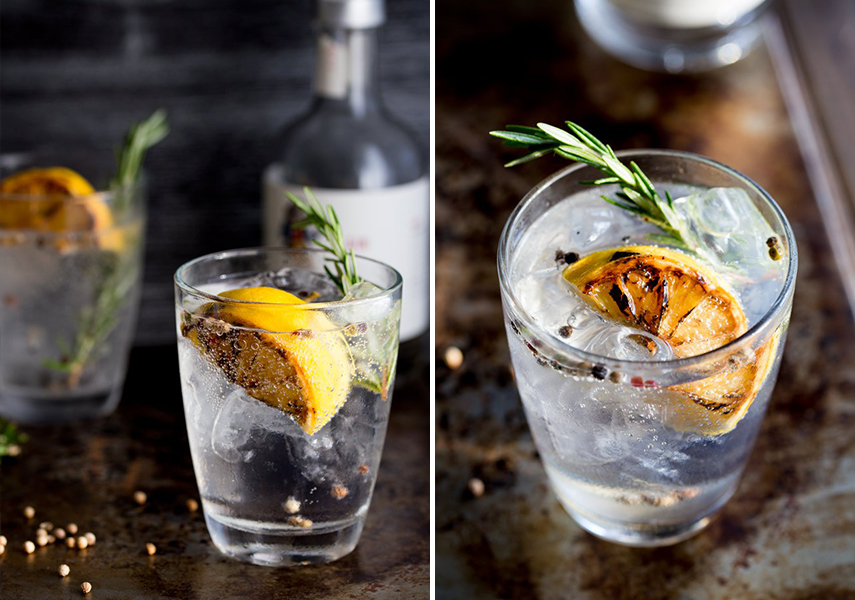 Charred Lemon, Rosemary & Coriander Gin & Tonic
Serves 2
I N G R E D I E N T S
1 lemon
2 sprigs rosemary
1/2 tsp coriander seed
125 ml /4oz/1/2 cup gin
1 cup ice
330 ml /11oz/1 1/3 cups tonic water
Pinch mixed peppercorns
M E T H O D
Put a cast iron fry pan or heavy non-stick pan over a high heat and allow it to get hot. Cut the lemon into quarters and place them cut side down in the hot pan. Once the lemon is charred turn to char the other cut edge.
Remove from the pan and set aside to cool. Put the rosemary, coriander seeds and gin into a cocktail shaker or measuring jug. Use a wooden spoon to lightly bash the aromatics.
Divide the ice between two large round bottomed glasses. Strain the gin into your glasses. Top up with tonic water, stir briefly and add in your charred lemon quarters. Serve immediately with a small pinch of whole peppercorns.
Recipe & photography by Sprinkles & Sprouts.