Writer and seasoned backpacker Tamara Davison shares how she packs light for a summer of adventures.
With summer just around the corner, our minds are drifting between holiday outfit planning and that much-anticipated first al fresco drink of the season, so what better way to prepare for those adventures than with a packing masterclass? From culling unnecessary trinkets to curating a crease-proof capsule wardrobe, writer and expert explorer Tamara Davison knows a thing or two about living out of her suitcase (or rucksack). So, she's given us her tips for packing smart and soaking up every second…
The secret to a successful trip? Keeping your belongings organised
I used to think that I was very organised — and then I went travelling. During my first few adventures, I was certain my bag had swallowed all of my important things. You'd be surprised how easy it is to lose stuff in your luggage. Whether you're immersing yourself in the cultural sights of Spain or backpacking around beautiful Greece, keeping things organised is key. That way, you're less likely to misplace your passport and more likely to spend time enjoying your getaway.
Now, I always separate my most important belongings (such as passport, money and credit cards) and keep them in a bum bag. I'll then split any cash and store it in two separate spots just in case.
Strike a balance between fun and practical fashion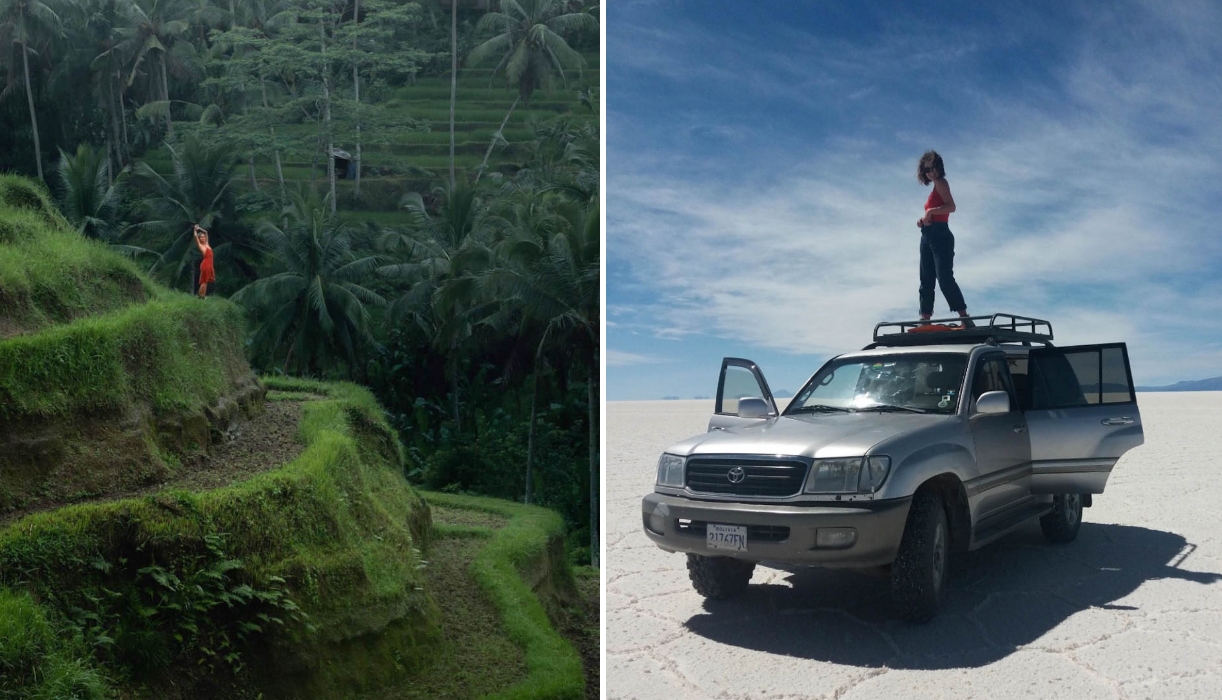 Too many guides tell you to pack light and ditch your favourite clothes for basic essentials. But trust me, you can keep things minimal and still feel good in what you wear while travelling. It's all about layers and a few staple items. Find yourself a pair of practical, yet pretty slide-on sandals. There's plenty of lightweight, waterproof options so you can dip your toes in the ocean and enjoy a walking tour all in one go. In countries like Thailand, where you often take footwear off before entering homes and restaurants, slides also make things a lot easier.
Pair these with a bunch of throw-on, floaty dresses and you're ready for a day of sightseeing or an evening on the town. P.S: When packing, make sure to roll your clothes to avoid any unwanted creases.
Don't forget to capture the moment
Given that so many exciting things happen during our holidays, you want to make sure those memories aren't forgotten. Capturing unique interactions, conversations and experiences requires a reliable camera and an even better journal.
In Colombia, I picked up a point-and-shoot film camera from a thrift market and it's been with me ever since. I love it! Rather than waste money on a 32-shot disposable camera, or expensive digital gear that I'd be afraid to damage, I carry around rolls of film and get them developed every few months. Invest in something small and compact that will guarantee surprises.
Be kind to the planet
Some parts of the world aren't as attuned to environmental efforts as others. Sadly, many regions lack education about how to adopt more sustainable practices. I also remember being stunned to see people throw plastic bags of trash into the Amazon river. However, as a traveller, you have a unique opportunity to share any knowledge and spread awareness. This starts with your own purchasing habits and the conversations you share with others.
A refillable water bottle is your best friend when travelling. Refill it at water points around many cities, keep yourself hydrated and do good for the planet while you're at it.
Expect the unexpected
Wherever you go in the world, know that the weather will be unpredictable. While you should always embrace the unexpected — you can also be prepared for it. That's why among your getaway packing essentials, make sure to have access to something waterproof and sun protection.
The trick is to make sure these items don't take up much space, so you don't feel like they're a burden to carry around. A fold up poncho might not be stylish, but it sure is a life saver. A bucket hat also tends to be my go-to as it can be easily packed away, and I can whip it out whenever I'm having a bad hair moment or need some shade.
---
Tamara's packing essentials
1. Moon Cup - Because sometimes tampons are surprisingly hard to find and come with a hefty price tag.
2. Multi-purpose Plug - Because you often need to charge a bunch of stuff and only have one plug. This is a life saver!
3. Shampoo Bar - Save yourself hauling a big bottle of shampoo and opt for a lightweight shampoo bar instead. Kind for the planet and a great space saver.