Everything you need to know for a long weekend in the French capital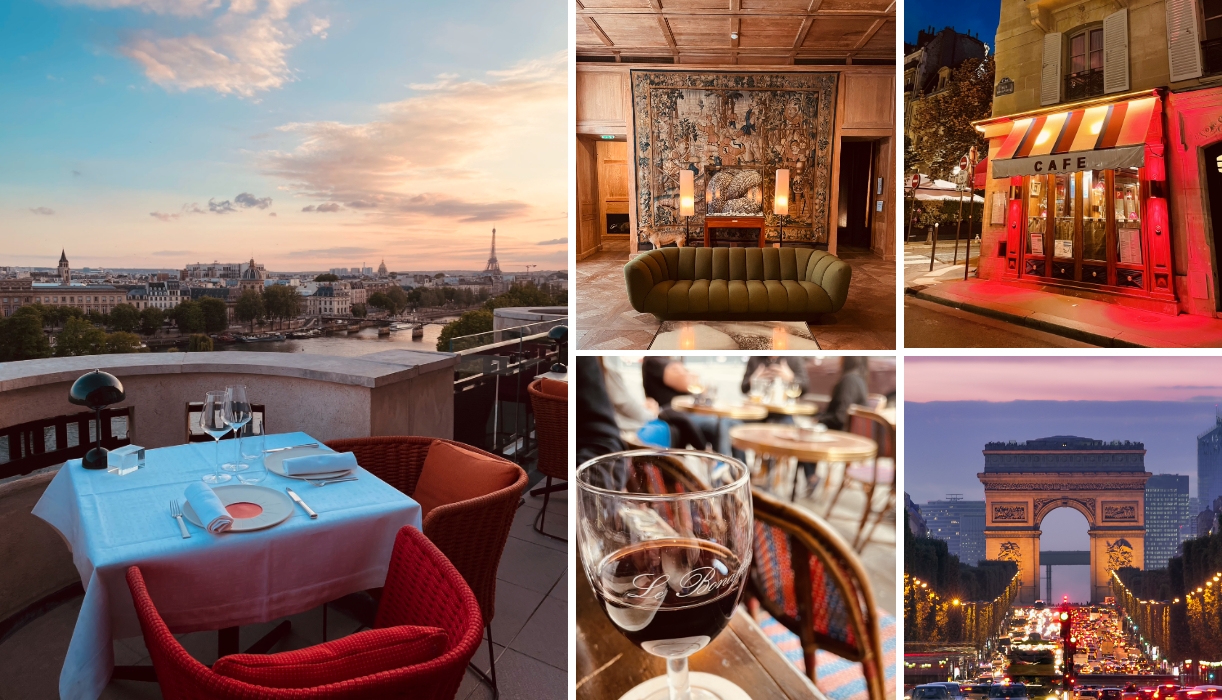 "A walk about Paris will provide lessons in history, beauty, and in the point of life," or so said Thomas Jefferson about the romantic (and intellectual) allure of the French capital. We're all too familiar with the magical draw of a summer spent in Paris, but what about winter? Chillier days bring a whole new energy to the city of love (or should we say l'amour). Cosy bistros fill up with chic locals drinking red wine alongside their steaming bowls of boeuf bourguignon, streets empty out in favour of a Sunday afternoon stroll around one of the city's many galleries and boutique department stores, and (arguably our favourite part) cafes turn on their outdoor heaters and serve cup after cup of molten hot chocolate. Tempted? We've rounded up everything you need to know for a long weekend in the French capital, all that's left to do is book those Eurostar tickets. Bon voyage!
People watching (and hot chocolate) at Le Bonaparte
Tucked away in a corner of the main square in Saint-Germain-des-Prés (one of the most popular spots in the city for eating, shopping and people watching), Cafe Bonaparte couldn't be more Parisian if it tried. The red, white and blue awnings, the beautiful Maison Gatti bistro chairs and the immaculately-dressed waiters are all waiting to welcome you for an afternoon of delicious food and even better scenery. And the best thing? It's only a few doors down from the very popular (and overly hyped, if you ask us) Les Deux Magot and Café De Flore bistros, both of which act as well-placed honey pots, drawing the constant flow of tourists away and leaving Le Bonaparte to the locals – and us. Find them at 42 Rue Bonaparte.
One-of-a-kind antiques at the sprawling Paris Flea Market
Visiting Paris' world-famous flea markets is the perfect way to while away a winter's day in the city. Not only is it one of the most quintessentially French pastimes, but you're almost guaranteed to walk away with something beautiful (and suitcase-sized) in tow. With over 2,500 sellers, the best street market is undoubtedly Marché aux Puces de Saint-Ouen to the north of the city. To get there by Metro, take Line 13 to Garibaldi and walk through the small park onto Rue des Rosiers, here you'll find the main entrances for the markets and avoid the less-than-authentic tourist traps around Porte de Clignancourt. Only open weekends & Mondays.
The newly-opened Cheval Blanc hotel sits just adjacent to the Pont Neuf and is a masterclass in Parisien luxury. An immaculately renovated Art Déco building overlooking the Seine, it was originally (and still is, in part) home to the city's iconic Samaritaine department store. Sadly, a stay in this LVMH-owned gem is eye-wateringly expensive, but take a trip through the mirrored lobby – mind the larger-than-life cheval – and up to the top floor and you'll be greeted by the best views (and cocktails) in the city at Le Tout-Paris, the hotel's impeccably designed rooftop bar. You're welcome.
With exuberant interior design by British artist Luke Edward-Hall, Hôtel Les Deux Gares is conveniently located between Paris' two biggest stations in the increasingly trendy 10th arrondissement – the perfect base for exploring the city. A smorgasbord of clashing texture, saturated colours and vibrant shouldn't-work-but-they-do prints, Luke's signature greco style makes this hotel one of the most Instagrammable spots in Paris. We're talking electric blue sofas, striped wallpaper and some of the brightest bathrooms you've ever seen. Throw in the convenient location and you're onto a winner. Rooms from €135 a night.
If you're looking for a secluded spot away from the hustle and bustle, Musée National Eugène-Delacroix is for you. Tucked away in the corner of one of the city's most charming little squares (on Rue de Furstenberg in the affluent 6th), it's almost impossible to find but absolutely worth the effort. The building, once home to the artist Eugène Delacroix, pays tribute to his legacy across a series of small rooms with a serene little garden at the back. It's not often you get to see art in the very place it was created, this one's not to be missed. Tickets from €7.
If Gucci and Wes Anderson collaborated on a museum, the Musée de la Chasse et de la Nature would be it. One of the most underrated gems in the city, this is taxidermy made chic (something we previously thought impossible). A cabinet of curiosities in the truest sense, it's spread across two beautifully renovated 17th century mansions and hidden behind a powder blue doorway in the heart of the Marais. Unlike most natural history museums, interior design plays an important role here, think sumptuous wallpapers, colourful murals and enticing sofas – plus, it flies well under the radar so you'll likely have the whole place to yourself. Tickets from €10.
Part bar, part coffee shop, part vintage shop, part restaurant, part greenhouse (did we miss anything?), Le Comptoir Général is an unexpectedly cavernous space in the achingly cool Canal St. Martin area of Paris. Tucked behind a fairly unremarkable-looking wall, this place comes to life on a Friday night – so much so that it can be tricky to get in after 7pm. But fighting with a Parisian over the last antique armchair next to a ship-shaped (not shipshape) bar is all part of the experience right? Or at least on-theme for the quirky vibe of the rest of our recommendations.
Shop small (and chic) at Bourgine
We stumbled across this little French fashion brand while lost on the Left Bank (that's some serious flâneur energy). The quiet street of Rue Racine is home to a few independent fashion brands, some tailors and a lovely jewellery shop. But it was Caroline Bourgine's enchanting designs that really caught our eye. Whimsical cord dungarees and beautifully finished jackets are handmade in their atelier – but it was their bistro-inspired collection that really sealed the deal for us. The ultimate ode to Paris.
Words by Lizzy Wilkinson