Forget the beach – these are the best laid-back locations for lounging this summer
It should come as no surprise (with our Aussie roots) that we've always been big fans of lazing about on the beach. But relaxing getaways don't always have to involve sun, sea and sand. Instead, one of our main criteria for this summer is somewhere we can stay in our loungewear all day (preferably with a glass of wine in hand). From private spa escapes to spectacular stargazing, we've picked some of the best spots for a relaxing, loungewear-only holiday…
Gilpin Lake House
Spa hotels are an obvious choice for anyone who wants to spend their days pottering around in something comfy. But why settle for an indoor spa when there's a relaxing walk on the cards? Situated in 100 acres of private grounds, including its own lake, Gilpin Lake House has six rooms, as well as its spectacular Jetty Spa and a 3-and-a-half hour trail. Starting off at the spa, the trail includes a dip in the pool, a canopy-level aromatherapy massage, cream tea in the boat house, followed by champagne in the hot tub. Book to start the trail late if you can – nothing beats some bubbles as you watch the sun set.
ION Adventure Hotel, Iceland
Don't let the name fool you – this sleek design hotel in 'the land of fire and ice' caters just as well for anyone looking to spend their days supine rather than searching for action and adventure. Previously a worker's inn for a geothermal power plant, Ion sits in the foothills of a dormant volcano overlooking the atmospheric Thingvellir National Park. The remote location means the skies here are wonderfully clear, making it perfect for a night of star-gazing or, if the timing is right, spotting the Northern Lights. Take these in whilst wearing your PJs in the panoramic glass-fronted bar, or in your swimmers while floating in the Lava Spa's outdoor pool. Either way, no need to get dressed...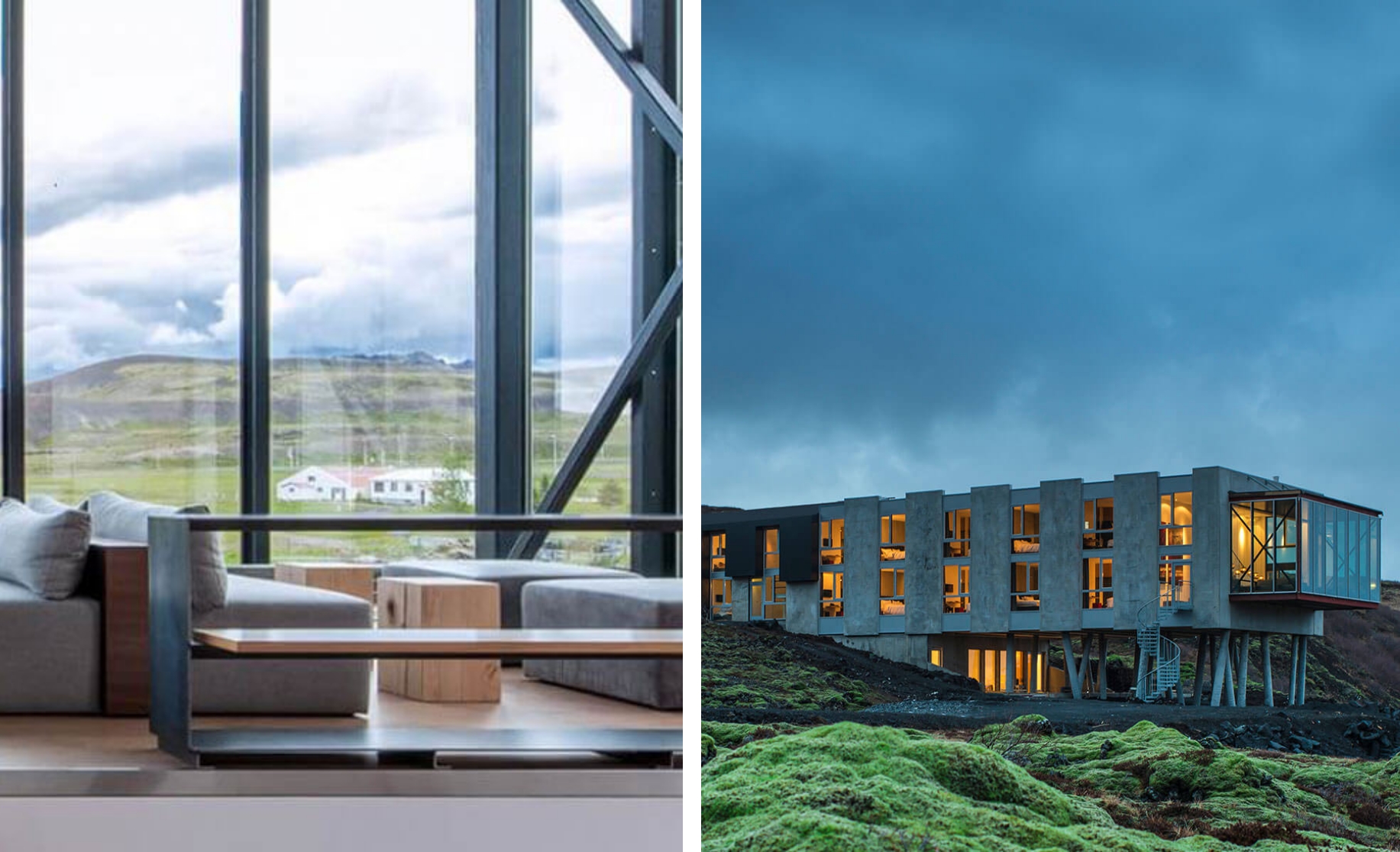 Hapuku Lodge, New Zealand
A view from the treetops is always going to be good, even before you throw in vistas across mountains, sea and deer roaming around at Hapuku Lodge. The 10m high tree houses perch in the canopy of a native Manuka grove at this stylish, sustainable country lodge, but there's also a picturesque pool and award-winning restaurant to tempt you back down to ground level. But while you're up in the clouds, we recommend curling up on the hand-crafted wooden furniture with a glass of wine from Hapuku's own vines (the Gewurztraminer is amazing) and a pair of binoculars to see if you can spot any of Kaikoura's visiting whales or dolphins.
Aristi, Greece
Sat above a sleepy village in the lush Pindus Mountains, Aristi is not your average Greek getaway. For one thing, there aren't the hoards of other tourists kicking around. In fact, you'll be lucky to spot anyone from this secluded hilltop sanctuary. Days here are spent connecting with the spectacular natural surroundings, whether that's feasting on local dishes from the region – think mushrooms, cheeses and wild greens – or enjoying the open air spa, where you can experience the birdsong and cool mountain breeze as you have your relaxing treatment. While there are plenty of scenic mountain trails to trek, guests are just as likely to while away the hours with a book or a board game in the bar, or sitting around the outdoor fireplace on the veranda admiring the panoramic views across the Gorge of Vikos – the deepest gorge in the world.
Amangiri, USA
If you've spent the time commuting to this remote desert destination in Utah, then you're going to make the most of it. Luckily, Amangiri is the kind of place you wouldn't want to leave. This iconic hotel's minimalist architecture blends seamlessly into the striking desert landscape, while the pristine pool gives off serious oasis vibes. There is, of course, an amazing spa, as well as a yoga and pilates studio, but you'd be hard-pressed to find a better way to spend your days than sprawled on your rooms daybeds, watching the desert sky as it melts from blue to purple to pink as the sun goes down across the red-rock canyons.