Remember, remember the fifth (and sixth) of November...
Ah, Bonfire Night. What began as a celebration of a foiled plot to blow up the government, the modern-day November 5th is more of an excuse to bundle up in chic layers and wave a few sparklers around (perhaps over a hot toddy or two).
And back with a bang for 2021? IRL fireworks displays. So, below, we've chosen five of the best celebrations to book tickets for this year – from an all-singing, all-dancing music display to Ally Pally's Bonfire Night spectacular, complete with beer hall and fire dancers. You're welcome.
Alexandra Palace, London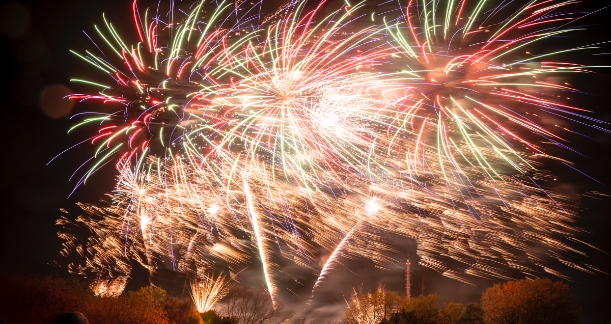 Even if fireworks aren't really your thing, there's a strong possibility you'll still find something to entertain you at Alexandra Palace's firework spectacular. As well as a giant bonfire, also on offer is a huge, German-style beer hall, performers who are (quite literally) on fire, and a Spice Girls stage show (yes, really). The bonfire is lit at 6:30, followed by the famous fireworks exploding over the London skyline. Magical. 6th November.
Lewes, Sussex
On November 5th, the sleepy town of Lewes is transformed: over 30 bonfire societies, wielding flaming torches and effigies, pour through its cobbled streets in fancy dress. It's something that has to be seen to be believed – particularly as the aforementioned effigies often resemble the year's least popular politicians. Celebrations finish with a round of drinks in each society's designated beer tent. Just make sure to head to Lewes in advance – all roads in and out of the town close on the day itself. 5th November.
Pyromusical, County Durham
It might have passed you by, but there was this huge global thing that meant we weren't able to travel for the last couple of years – something beginning with C? Anyway, 11 Arches have responded to a year of limited travel with their "pyromusical" display. This is less of a bonfire and more of a 25-minute firework display set to a medley of musical songs, this year themed Around the World. Tickets for 8,000 people are available on a first come first served basis, and if you're hungry, they're serving up locally sourced food and drink all night. 6th November.
Towcester Firework Frenzy
This year, Towcester has swapped the usual fireworks soundtrack of whizz-bang-boom for a silent display, featuring noiseless sparks alongside lasers and drones. They'll also be transforming the racecourse into a massive free fairground, complete with rides, candyfloss and a Halloween costume competition for kids. Tickets are £22 and available here. 5th November, from 6pm.
Burnham-on-Sea, Somerset
Every year, Burnham-on-Sea is a key part of a Somerset-wide carnival commemorating Bonfire Night. Usually, over 100 brightly lit floats waltz through the town centre, but due to You Know What, they've traded in their usual flotilla for a walking procession – but it still ends with everyone spilling onto the beach to watch a fireworks display. Dreamy. 8th November.
Shop the Bonfire Night edit here