Travel journalist Ianthe Butt rounds up the best British boltholes for dreamy duvet days
While we might all be looking forward to the day that spring brings temperatures above a chilly 8 degrees, the lingering chill in the air is at least good for one thing: totally guilt-free duvet days. But, since we know every inch of our own bedrooms at this point, we'll be turning our attention further afield this year. From an architectural eco-hut in Dorset to a historic mill in Kent and a treetop hive in the Peak District, these incredible spots are some of the coolest places to wake up, kick back and spend the day in bed.
For canopy charm: Woodland Hives at Callow Hall, Derbyshire
Set in the ancient woodland surrounding a revamped Victorian country house hotel, Callow Hall's wooden hives perch hidden in the leafy canopies. Each one has walls wrapped in upcycled wood panels that create a fairy-tale forest feel, as well as decor by fashion favourite interior designer Isabella Worsley – think botanical prints, chunky throws and tactile ceramics - ideal for a cuppa on the terrace at sunrise. And yes, there are mod cons, but why switch them on when you can throw open the hive door, soak up Peak District views, and listen to the crow of pheasants and fluting blackbird calls instead?
Worth getting out of bed for: The striking glass-walled Garden Room restaurant serving seasonal fare, strolls through the garden grounds, and bird-watching along the Tissington Trail.
Stays in a Woodland Hive at Callow Hall are from £259 a night, room-only.
For film nights and farmland: Architect's Hut, Dorset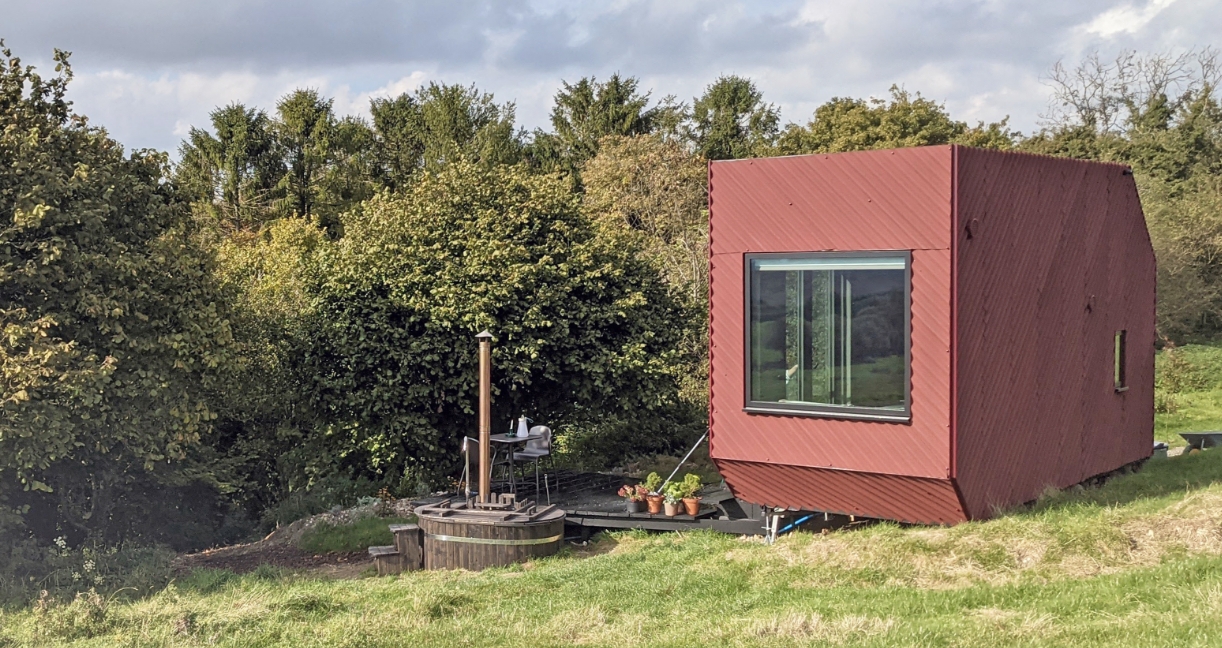 This dinky Bauhaus-inspired rust-red cabin, set in rolling Dorset farmland, has all the ingredients for restful, rural bliss. As well as swoon-worthy views through vast picture windows, there's a curated mini-bookshop shelf, an eco-friendly vapourised shower and an easy-to-use projector which transforms the hut into a mini-cinema. Climb the ladder and tuck up in the elevated super king whilst watching an arthouse flick (there's a MUBI subscription) accompanied by freshly-toasted marshmallows from the outdoor fire pit.
Worth getting out of bed for: Sunset barbeque dinner as starlings swoop overhead, midnight soaks in the wood-fired hot tub, and Sunday roasts at the Hambro Arms.
Stays are from £100 a night through Kip Hideaways.
For historic feels: Old Smock Mill, Kent
Places to sleep don't get much more kooky than this restored mill in Beneden, which dates from the 1800s. Now reimagined with a fresh look, the top three floors fuse country-inspired interiors with the original beams, wheels and pulleys to retrain the former mill's charm. Expect seasonal produce left in the kitchen for you to whip up into a meal (incidentally where the ground grain or 'meal' was originally processed). But the highlight is unquestionably the winding spiral staircase off the beamed bedroom, which leads to a one-off bathroom complete with original cogs and winding mechanism, best appreciated from the moss-green roll-top tub.
Worth getting out of bed for: The delicious wine at Tenterden, of Chapel Down fame. Pick up a bottle to enjoy later al-fresco on the mill's wrap-around terrace.
Stay from £195/night, min 2-night stay.
For off-grid stargazing: Seren Bach, Powys, Wales
This cool off-grid geodome lives in the Brecon Beacons, one of only five places in the world to have international Dark Sky Reserve Status, making it the perfect location to marvel at the night sky. But the real perk? Spotting a shooting star without having to leave the comfort of crisp cotton sheets and a handsome brass bed thanks to a clever stargazing roof. Meanwhile, days can be spent admiring the misty, rolling countryside from the eclectic dome or simply basking in the flickering glow of the wood-burning stove, bestseller in hand. However, ahead of sunset, it's worth switching pyjamas for swimwear to enjoy astonishing wilderness vistas from the hot tub.
Worth getting out of bed for: Saying hello to chickens and sheep as you wander around the rest of the grounds of Argoed Barns, or sipping on Welsh whisky at the Penderyn distillery.
Stay from £125/night, min 3-night stay.
For lakeside luxury: Boathouses at The Tawny, Staffordshire
Offering a double whammy of architectural wow and lakeside location, the Boathouses at self-proclaimed 'deconstructed hotel' The Tawny have some seriously impressive views. Dramatic floor-to-ceiling glass windows look out onto one of the seven lakes here, so that no matter where you are - hunkered down on the sofa, lounging in the Bateau bathtub, or relaxing in bed - coots scooting and ducks gliding across the rippling water is always within view. But these are best seen on the private decking, where a bubbling freshwater hot tub and outdoor shower are waiting for you.
Worth getting out of bed for: Sensational suppers at the tropical-plant adorned Plumicorn Restaurant, dipping in the heated Roman Baths-style al-fresco pool, and discovering the grounds' secret follies.
Stays in a Boathouse at The Tawny are from £400/night, B&B.