From Scotland to Sussex, here's where to light up winter's long nights
It's hard to imagine the festive period without Christmas lights. We've been decking the halls, walls and public streets since candles were first pinned to pine trees in the 18th century. However, in the last decade or so, loads of immersive, social-media-savvy installations have cropped up all over the country, cementing the outdoor light trail as a key event in our Christmas calendars (a trend accelerated, no doubt, by the, ahem, enforced vogue for outdoor socialising last year).
We've chosen eight of the trails we can't wait to visit – from Scotland's longest light tunnel to a glowing replica of Earth suspended over a wintry Sussex lake. Don't forget your camera…
Wollaton Hall, Nottingham
If you're a fan of the Batman films, you might – under normal circumstances – have been able to recognise Wollaton Hall's gothic façade as Wayne Manor from The Dark Night Rises. However, the Elizabethan mansion is set to be transformed this winter. Back for a second year in a row, the multi-sensory light trail loops all the way through the deer-packed park, finishing with a colourful display projected onto the house itself. Expect lasers, giant illuminated presents and mesmerising projections (Batman, however, is likely to not be in attendance…) 26th November – 9th January 2022. From £19.80.
Glow Wild, Wakehurst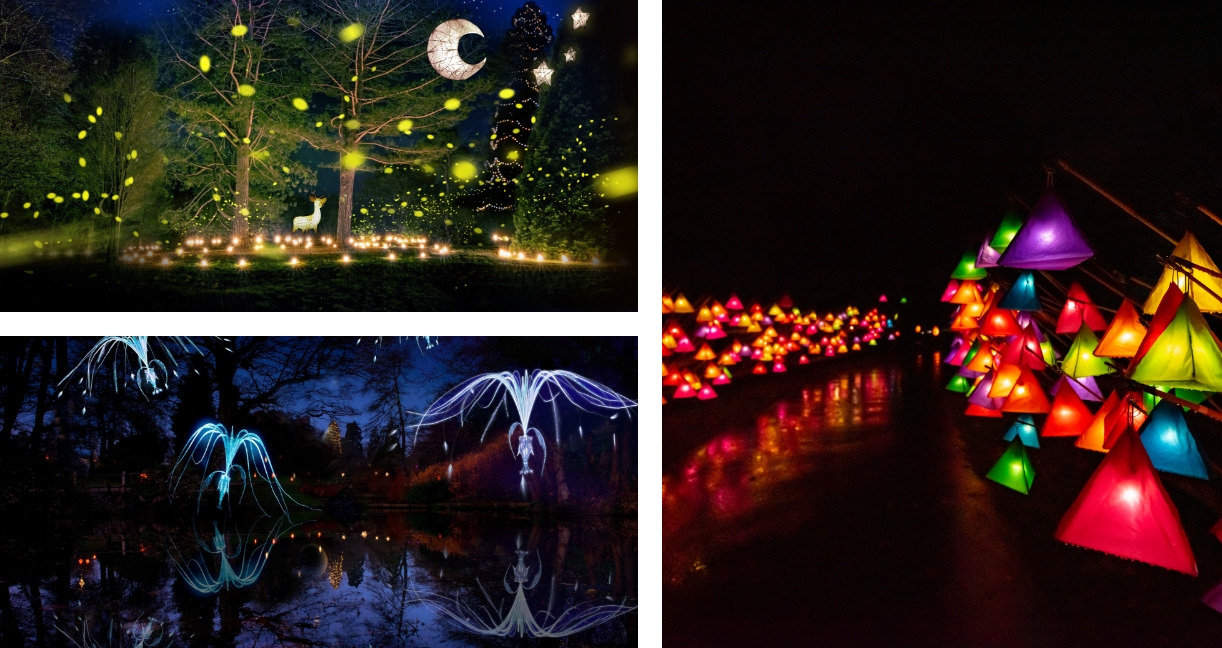 It's an artistic affair at the Sussex outpost of Kew Gardens, with the walkways lined with hand-made triangular lanterns and illuminations designed by talented light artists. The highlights? Either the bespoke, seed-themed animations by The Colour Project, or the giant glow worms taking over the Walled Garden, designed by the lighting wizards behind Glastonbury. Ok, and a special mention goes to the world's tallest Christmas tree, which is decorated with 1800 lights. Selected evenings from 25th November – 2nd January. From £16.
Christmas at Bute Park, Cardiff
There's seemingly one rule at Bute Park this winter: to cover, drape or decorate every inch of space with LED lights. The 1.4km trail passes glimmering trees and festive animals, before concluding with 'the Sea of Light' – a blanket of colour-changing LEDs that shift colours like waves on the shore. As if that wasn't enough Instagram fodder, there will also be a fire show shooting flames into the sky and a market selling locally-sourced snacks. 25th November – 31st December 2021. From £18.
The Lanterns at Chester Zoo, Cheshire
As well as celebrating the festive season, it's also a big birthday at Chester Zoo, which turns 90 this year. As such, their light trail features a special area dedicated to honouring the zoo's history – as well as a series of (what else?) animal-themed illuminations. In a nod to the zoo's work as a conservationist charity, they've also chosen to (quite literally) spotlight species facing extinction – alongside Father Christmas, of course. 12th November – 23rd December. From £13.
Beecraigs Festive Forest, West Lothian
We're sure the question of where to find Scotland's largest disco ball has been troubling you for days, but let us put your mind at ease: it's dangling over Beecraigs National Park, about 50 miles from Edinburgh. The festive forest – now in its second year – also features Scotland's longest light tunnel, a silent disco and fire jugglers – as well, of course, as a series of colourful illuminations glowing on the forest's native pine trees. 3rd – 24th December. From £18.
Lightopia, London
Christmas at Kew tends to get all of the capital's lit-up love, but you should also add Crystal Palace's Lightopia to your calendar if you're in London this winter. The award-winning spectacle also has events in Manchester and Alton Towers, but there's something particularly magical about the projections glimmering and reflecting in the water outside the palace itself. Plus, there'll be illuminated dinosaurs in tribute to the park's famous sculptural animals, as well as a water show and a light up dance floor. From £19.50. 19th November – 2nd January.
Christmas at Hillsborough Castle, Belfast
Another stately home transforming its grounds into a light-festooned fiesta, the grounds of Hillsborough Castle will more closely resemble a fairy tale kingdom than the Queen's official Northern Irish residence. It's got all the hallmarks of a great light trail: tunnels, giant baubles and, as befits a partnership with Sony Music, a cracking soundtrack of Christmas tunes. Round off your visit with a mulled wine from one of the many stalls – it's practically a royal decree, after all… 3rd December – 2nd January 2022, excluding 6th, 7th and 25th December, from £18.
Leonardslee Illuminated, Sussex
If the photos alone don't convince you that Leonardslee's light trail is one of the most romantic places ever, let us point you in the direction of the many marriage proposals that took place there in 2020… This year, they've swapped the highly-photographed moon over the lake for a glowing replica of Mother Earth – an experience that's only enhanced by a soundtrack of lullabies recorded by real life mothers that echoes across the park. To drink, it's wine from Leonardslee's sister estate all the way out in South Africa. Cheers! 25-28 November, 2-5, 9-12 and 15-22 December. From £18.