Wet weather won't put a dampener on our style thanks to these looks.
Rain, rain, go away… come again when we've figured out how to dress for wet-weather days. There might be something cosy about the pitter patter sounds of rain in winter, but heading out in the drizzles and downpours can be pretty miserable if you get your outfit wrong. That's why we're decoding some keep-dry looks that we can always rely on in our rush to get out the door; here are our five outfit ideas for a rainy day.
The key to staying dry (no surprise) is all in the coat you choose – there's only so much protection a brolly can give you from winter's blustery, sideways rain. So, we've picked a mix of layers that'll take you from mild temperatures to freezing cold, and home or the office. We're talking water-repellent materials, plenty of padding and a few trusty hoods for good measure.
And on our feet? Boots, boots and more boots. This is not the time for our favourite canvas sneakers or dinky flats. A sturdy pair of leather boots will save you from all those puddle splashes and slippy surfaces, and they'll come out the other side looking good as new. We didn't need any more convincing to live in our favourite pairs this season.
Go long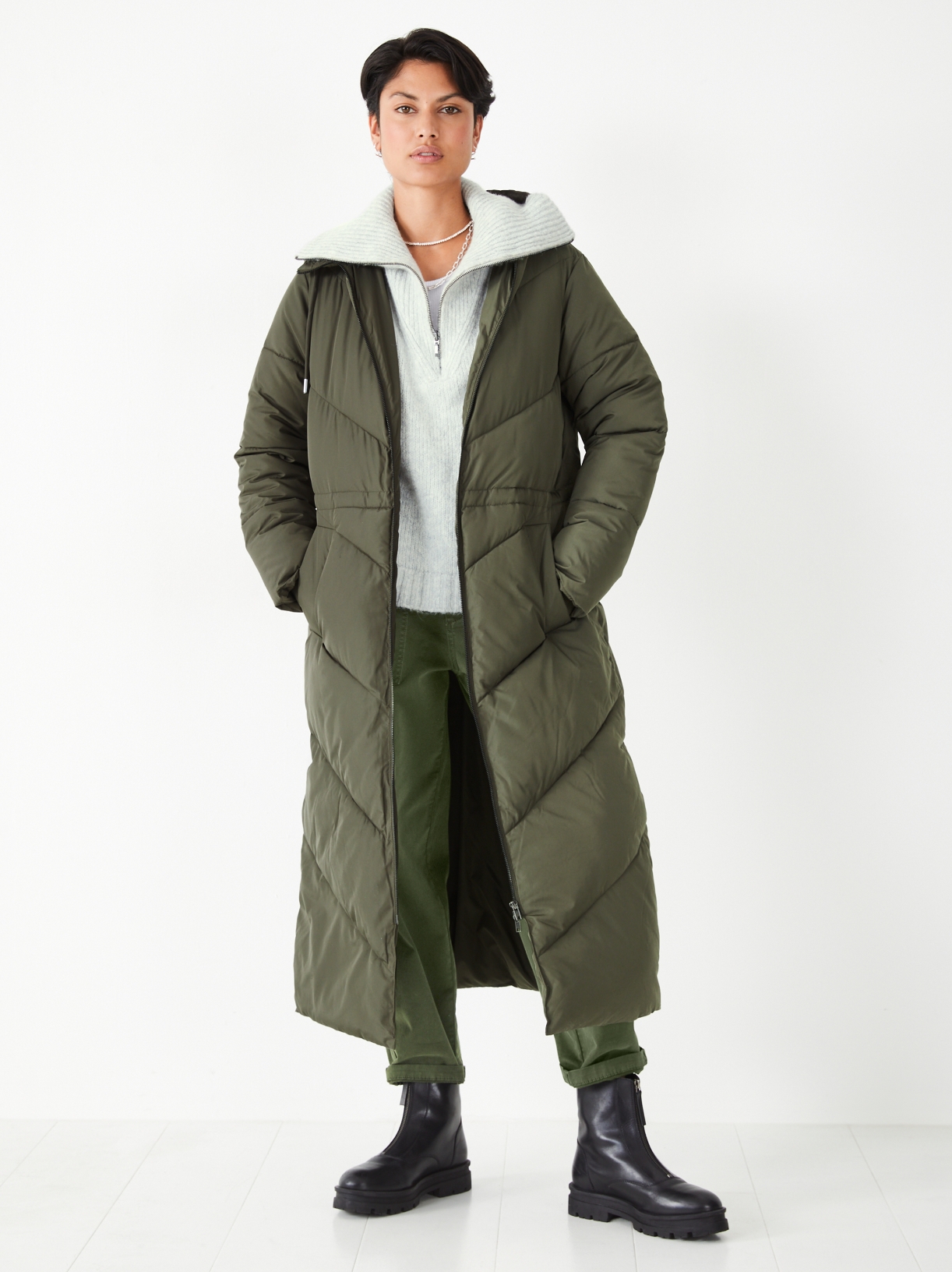 You don't need to worry about what's underneath when you've got a coat that grazes your ankles. Our Eila puffer is the ultimate duvet jacket, with warm padding, a shower-proof material and an all-important hood. We've styled it with our zipped boots and a wonderfully snug knit to keep the cold out, with our chino trousers rolled up to avoid splashes.
Eila Chevron Puffer Coat £189, Nia Half Zip Knitted Jumper £120, Utility Chino Trousers £75, Ribbed Scoop Vest £29, Elm Boots £189
Bring on the boots
We're not saying dance through puddles Gene Kelly-style or anything, but a tall pair of boots can make you feel pretty invincible when the heavens open. Our Regent boots come just under the knee, and we love wearing them with a comfy pair of leggings underneath on rainy days. Add a quilted jacket (which, bonus, is having a bit of a fashion moment) and you're all set for wet weather.
Regent Leather Boots £219, Joy Quilted Jacket £129, Printed Leggings £32, Danni Oversized Sweatshirt £49, Oversized Cotton Shirt £65
Trust a trench
The timeless trench coat was first designed in the 1800s with rainy days in mind, so we won't argue with its ability to keep us dry. Ours is made from a luxurious Italian cotton twill fabric with water-repellent properties. And if you're wondering what the piece of fabric across the back is, it's a storm flap, which makes rainwater run off the jacket. We're sold!
Viola Relaxed Trench £239, Regent Leather Boots £219, Ivy Hoop Earrings £30, Leather Leggings £349
Hoods up
There's nothing more annoying than being caught in an unexpected shower, so a coat with a hood is a non-negotiable in our winter wardrobes. When there's some drizzle in the air, we throw on our Leia puffer with one of our live-in sweaters and a pair of jeans – these ones have a turn-up that we can adjust to keep dry, too.
Leia Puffer Jacket £159, Dani Oversized Sweatshirt £49, Cali Cotton Slub Crew Tee £27, Agnes Jeans £79
Leather weather
With its wipe-clean, drip-dry properties, leather is a failsafe fabric when it's wet out. And combined with the trench design, we think this delicious chocolate brown leather coat is pretty unbeatable. We like to layer an organic cotton hoodie underneath for extra warmth and softness, and chuck on a pair of easy Chelsea boots with chunky soles to brave the elements.
Leather Trench Coat £389, Lenny Straight Leg Jeans £75, Fleet Boots £189, Reni Oversized Hoodie £69