In need of some botanical inspiration? These colourful gardens are in bloom and worth a peek
With the Chelsea Flower Show in full swing and sudden downpours proving fruitful for our little patches of green, there couldn't be a better time for some botanical exploration. And while we love a National Trust visit as much as the next person, it's the off-the-beaten-track (or should we say down-the-garden-path) spots that are inspiring us most this summer. From wild walled gardens to insta-worthy landscapes — these lesser-known UK gardens are chock-full of flower power (stock up on the antihistamines) and all set to get your green fingers tingling.
Down House, An Explorer's Paradise
Travel down to the Garden of England for a day and you'll find Down House — the original home of Charles Darwin and his family. The house itself is steeped in history, but the gardens (the original inspiration behind many of Darwin's theories) are the reason this heritage spot finds itself on our list. Not only is it home to over two hundred species of plant, but wildflower meadows surround the grounds and ancient trees greet you on arrival. And the crowning glory? A sprawling kitchen garden complete with a quaint duck-egg blue greenhouse. What's not to love?
Scottish Beauty, Falkland Palace Gardens
If you ever need an excuse to visit the East Peninsula of Scotland, Falkland Palace Gardens is it. Surrounding one of Scotland's finest Renaissance palaces, this garden might be unassuming at first glance but a sea of heather (a warm reminder of its heritage) and the scent of the physic garden create a charming atmosphere as you wander through. Plus, it's home to the world's oldest surviving real tennis court, as well as an ancient orchard and wildflower meadow. Tucked away in the centre of Fife, it's the perfect spot for some quiet contemplation (even Mary Queen of Scots thought so!).
The Best-Kept Cotswolds Secret, Kiftsgate Court Gardens
The Cotswolds are renowned for their gardens, and it's no wonder. With big names like Hidcote, Highgrove and Bourton House playing host to millions of visitors every year, it was our first port of call when we started compiling this list. But trust us when we say that the rambunctious, rambling gardens of Kiftsgate Court are not to be missed. Owned and tended to by three generations of pioneering women – the garden is a riot of peonies, roses, geraniums and hundreds of other shrubs and perennials. With the family introducing new elements to the garden every season. The intimate feel of Kiftsgate (as well as spectacular views) makes it the ideal spot for a romantic weekend stroll or the perfect place to find a slice of peace and quiet on a Sunday afternoon…
Always Sunny In Somerset, The Newt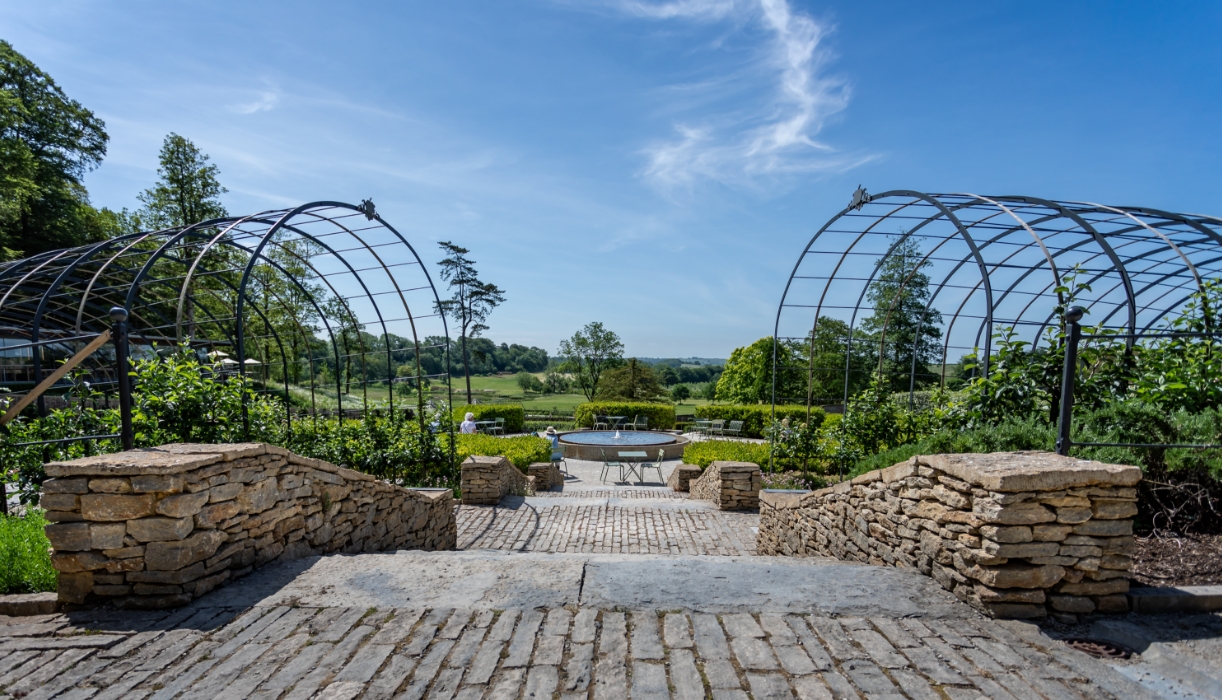 If you've been anywhere near Instagram in recent months, you may recognise this next pick. Since opening in 2019, the luscious grounds of The Newt have played host to an array of stylish events. The backdrop to many insta-worthy pics, this slice of horticultural heaven in Somerset is filled with wildflowers, refreshing water features, beehives, and enough topiary to inspire some home attempts (time to dig out those secateurs). Food is the name of the game too, with an extensive team of farmers, gardeners, butchers, bakers, cheesemakers, chefs and cider makers working with the land to produce delicious concoctions (some of which are available online). And, if your plant preferences lean more indoors than out, their epic Garden Café will be right up your street. A coffee and slice of cake surrounded by vines, cacti, and succulents? Count us in.
The

Secre

t Secret

Garden,

Walled Garden at Mells
Tucked away in the Glastonbury Valley, this 16th-century walled garden is the picture of tranquillity, with its delightfully rambling garden and calendar of therapeutic events. The Walled Garden at Mells has a community nursery amongst the beautifully miscellaneous beds and trees that make up the gardens themselves. The Garden and Café host open programs throughout the season for the community to come together and work on the gardens – making it the perfect location for any budding gardeners wanting to learn more and seek advice from experts in the field (get it?).
---
If we've succeeded, you should be feeling pretty inspired by now...