For Noëlla Coursaris Musunka, education is all. It changed her life and now she is using it to change the lives of others.
Born in Lubumbashi in the Democratic Republic of Congo, she was sent to Europe when she was five and her father died, because her mother lacked the education and resources to keep her. Spotted as a model in London, she built an international career, which is turn became a platform for her foundation, Malaika.
Having witnessed the lack of education and opportunities for women in her homeland, Noëlla decided to build a school for girls, age 5-18 and a centre for their community. "In a way Malaika is the story of me," says Noëlla. Education gave her the capacity to fulfil her dreams – and she is passing that on. "These children, they believe they can become someone. They grab the chance."

We caught up with the woman building dreams for Africa's youth to talk about the power of education as she modelled our new spring collection...


Where did the idea for Malaika start?
In Africa, when parents have money, they send sons to school first and girls stay at home. But if you educate girls you get less pregnancy, less HIV infection, the longer they stay in education, the more it impacts they're future earnings so they can support themselves and their families. And we need more women in power, in politics, in business. We need to elevate them and retain them locally – build the infrastructure of the Congo from within. The girls we educate want to be leaders – they have big dreams. But now my son is always telling me I have done enough for girls and need to focus on the boys!


The community was very traditional – how did you get them on side?
There was a lot of discussion beforehand, and the reason the project is successful is that the community was involved even before we started. You have to respect the ancestors, the rituals and the people. The chief of the village wanted me to build a school for girls and boys. I told them to look at their own daughters: did they want them to just marry and not work at all?
Now, they're very proud: they see me as their daughter. They see me coming with my kids every year; they know I don't take a salary. They saw me lobbying for electricity for the village; for a road; building wells so people had clean water.
They see the community centre that serves 5000 people.. They see people coming from all over the world to see what we've done in this village.


Have you always been this focussed?
I was very focussed at school and I was always one of the best. But when you have nothing – you don't speak to your mum, you don't have your dad, and you know you are by yourself - that makes you very strong. It's the same thing with the foundation: I have lot of people working on it, but I'm the leader – I have to make it happen.



Daphne Jumpsuit, Love Saves The Day V Tee, Love Beaded Clutch, Printed Blazer, Night Sky Trainers.


What was life like for the children before Malaika came to the village?
They live in small houses (sometimes six or seven of them in one room), where they sleep on the floor, and have maybe two meals a week. One of the reasons attendance is so high at the school is that it provides two meals a day (and
everything from shoes to underwear). During school holidays, you could see their health degenerate – so now we put on holiday programmes.


And what are they taught at school?
Everything from the most basic skills like how to be clean and wash their hands, use a toilet (most of them don't have one at home), and cutlery. There is the academic curriculum, and then we place a big emphasis on creativity, music, IT and sport, even yoga. I really want them to study in a way that is not formulaic; to find their own personality and creativity. What's wonderful is when they go home and pass on these skills.


We imagine one issue of embarking on a project of this scale in a country with so much need and an uncertain infrastructure is that every solution exposes another problem...
Exactly. Before we could even begin to build the school, we needed a well. So we built one with the Voss foundation - and hundreds of people started coming for fresh water. We knew that well was going to be fenced in as part of the school – so we built another. Now there are eight.
Then we saw the gap between the students and their parents: the mothers were so ashamed they couldn't read. So, in partnership with FIFA, we built a community centre where we teach the parents and the youth: reading and writing, maths, IT, entrepreneurship. The next thing I want to do is vocational training for the youth. Africa is more than 60% youth who have dropped out of school (or didn't go) and you need to teach them a vocation or a manual job. That's one of my dreams. And we are going to tackle the problem people have accessing proper medical care, so we are planning a clinic.
You lost you father and left your mother at a very young age – how has that impacted on the mother (to JJ, 7, and Cara, 3)? I took eight years off from modelling to focus on being a mother. I just had to fit Malaika around my children. I probably lost out career-wise, but there is nothing more important than the fact that my kids are very stable and happy. I want them to understand they have to work for what they have, and they have to be very respectful because they have the greatest gift: a mum and a dad.


When are you happiest?
I'm happiest when I'm with my kids – it's just the most precious and unique time. And the other thing that makes me really happy is when I'm at the school in the Congo.


Who or what is the love of your life?
My husband and my kids.



Love Stack Jumper, Santana Skirt.


What did you want to be growing up?
I wanted to be a surgeon or a doctor – I guess it was always about saving lives. But then I realised it would involve all that blood…


What would you tell your 18-year-old self?
I think at 18 you just have to enjoy life and discover the world. Travel, discover people, be yourself and be happy. You have so much time to work out what job you want to do, who you want to be – there are so many challenges ahead, so just be happy right now.


Who's your role model?
I love Nelson Mandela. I love people with character and personality who leave a strong legacy and message – and who are not afraid of giving that message.


What's the soundtrack to your life?
Right now, it's Dora the Explorer and Peppa Pig and Row, Row, Row Your Boat and Let it Go! But I love anything by Sade and Nina Simone.


What do you consider your greatest achievement?
Apart from being a mum, of course, it's to have built this village, from the idea, to the fundraising (because we started from zero), finding the village, building a school for 280 students and a community centre which serves more than 5000 people. Sometimes you think to yourself 'what should I do next?' but right now I'm trying to enjoy what I have finished. And I'm proud because I'm not from a rich family or a 'name'; I have done this with my gut and my heart.


At hush we really value female friendships: what quality do your friends share?
50-70% of the people around me are women and I have very strong friendships with them. I have young girls writing to me from around the world; strong women reaching out to me; my biggest donor is a woman. I think what they have in common is respect – and a tonne of affection and love. We are all very caring towards each other.


You can invite six women (any six – living or dead) for supper: who? And where do you go?
I love the energy of Thandie Newton - she's my friend and a big supporter, so I will definitely save a place for her! Charlize Theron, Billie Holiday, Tina Turner, Macy Gray and Donatella Versace. Forget dinner: we'll go on holiday and lie on the beach!


What was the last book you read?
The Very Hungry Caterpillar - my daughter is obsessed with it! The last book I read for me was The Prophet, which I loved, and I read a lot of books about leadership and entrepreneurship and philanthropy.


What does your perfect weekend look like?
I would love a weekend with nothing to do – ours is taken up by ballet, football, swimming and birthday parties… Sunday is just for us, so I love a big family lunch to the pub, then head home to relax and read all the Sunday papers.


What's the one thing people would be surprised to learn about you?
I think people are surprised that I have a real sense of humour. What I do is quite serious, and I spend a lot of time with serious people, but I just love to laugh and I love life.


What – if anything – keeps you awake at night?
I need my 7 hours sleep to function. Nothing keeps me awake aside from my children.



Pleat Panel Dress, Brayebrook Trainers, Hoop Coin Earrings.


Winter or Spring?
Spring, I hate winter.


Early bird or night owl?
Early bird!


Over or under dressed?
I think I'm over dressed.


Guilty pleasure?
I love sweet candies and cake.


Ultimate luxury?
Holidays in the sun.


Night in or night out?
I think I like night out as you spend so many nights in with the kids


Cocktail or green tea?
I do like one or two cocktails…


Word you over-use?
Sustainability. And LOL I use a lot.


One thing you'd want on a desert island?
Bottled water. Too sensible? A hat? Sun cream. I know! A bag of cola bottle sweets.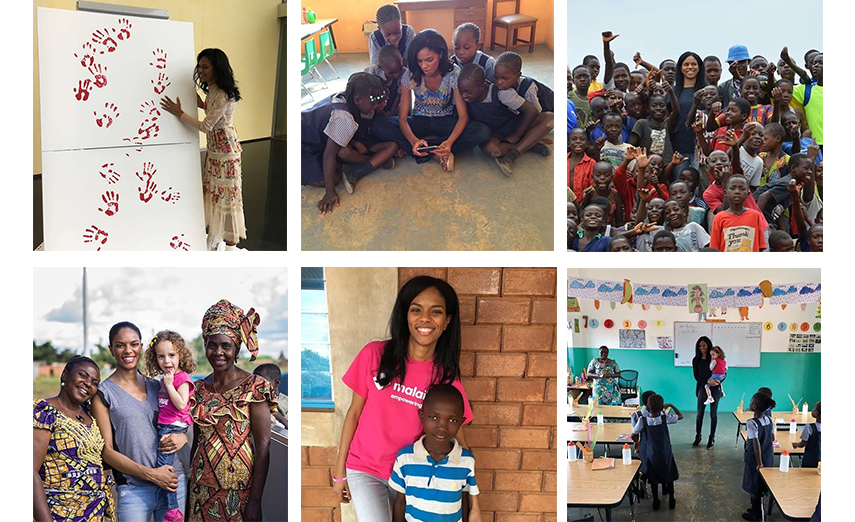 Follow Noëlla on Instagram @noellacoursaris and Twitter @Noellacc, and head to malaika.org for more information on her incredible charity foundation!