Because good drinks shouldn't cost the earth
Through the miracle of the internet, let us whisk you to your kitchen on a Friday evening. It's a hot one – the kind of day that might be described as scorchio – and you're fanned by the breeze from your fridge as you survey your alcoholic bounty. That elderflower tonic would go perfectly with the inch of orange gin left in the cupboard, you think, although you wouldn't mind a glass of Pinot.
It's probably a fair assumption that the drink you choose is decided by a quick bit of mental maths involving taste, price and alcohol percentage. However, there's something else you should consider: how sustainable your beverage of choice really is.
The environmental footprint of the drinks industry may as well have been left by a boozy Bigfoot. One small glass of wine (125ml) takes a whopping 110 litres of water to produce; for a pint of beer, it's 148 litres. The crops used to make the alcohol? More than likely sprayed with industrial-strength pesticides and fertilisers. And that's not even considering the packaging (is it recycled?), the air miles (how far has it flown across the planet?) and the labour issues the drinks industry is unfortunately fraught with.
However, in 2021, it's not all doom, gloom and Zoom. The past few years have seen a tipsy tidal wave of more environmentally responsible bevs flooding into the market. Granted, navigating these ecological waters can be tricky – particularly with more buzzwords and greenwashing floating around than we've had G&Ts. Luckily, we've enlisted the help of our very own Ethical and Sustainability team to find the ones that are genuinely making an effort to reduce their environmental impact.
So, behold: our list of the beers, wines and spirits you can buy right now that are doing their bit for the planet – and we've thrown in some cocktail ideas using them, too. Now, where did we put our shakers?
Lower impact gins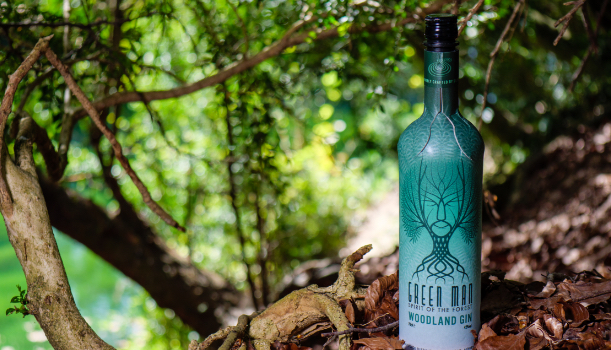 In the supermarket alcohol aisle, gin still reigns supreme. Us Brits bought a whopping 48 million bottles of the stuff last year, which was a 22% increase on 2019 (possibly due to The Global Situation). However, there are some cracking environmentally conscious options on the market that deserve your attention.
Green Man Woodland Gin's claim to environmentally-friendly fame is that it's the world's first spirit served in a paper bottle – which gives it a carbon footprint up to six times lower than its glass counterparts. It's made by Silent Pool Distillers, which is powered using 100% renewable waste or residue food stock. Its flavour is nspired by the woodland in Surrey, so you should look out for notes of fir, pine and birch leaf alongside fruitier flavours like apple and rosehip.
Another one of our favourites is HYKE. Their tactic is to grab loads of pre-crushed wine grapes (6.3 million and counting) that would otherwise be discarded and distil them into genuinely brilliant gins. Go for their newly launched Very Special Gin, which delivers on its name with a citrussy, aromatic finish. Below, they've shared their recipe for a gin spritz – a delicate mixture of gin, Earl Grey and sparkling wine.

HYKE Very Special Spritz
INGREDIENTS
50ml HYKE Gin Very Special
40ml Brewed Earl Grey tea
1 teaspoon plum jam
15ml lemon juice
50ml traditional method sparkling wine (Champagne, Cava, English Sparkling Wine)
Lemon zest
Sprig of mint
METHOD
Add 40ml Earl grey tea to a wine glass

Add a teaspoon of plum jam and mix until dissolved

Add 50ml HYKE Gin Very Special and 15ml lemon juice. Fill to brim with ice and stir for 10 seconds

Top with 50ml Champagne

Garnish with a mint leaf and lemon twist
Carbon negative rum
While gin may be leading the pack, rum is nipping at its heels. Globally, we drank 8% more rum over the last year, with a 38% increase between April and June 2020 compared to the same period the year previously (and we all know why…).
One producer that has more sustainable rum down to a scientific precision is Two Drifters. It's the brainchild of Gemma and Russ Wakeham, the latter of whom used his PhD in Organic Chemistry to create the carbon capture and utilisation technology they've been using since 2019. The result? The world's first carbon negative rum distillery that removes more carbon dioxide from the atmosphere than it produces. Our pick of the bunch is their Spiced Rum, which has notes of vanilla and mixed spice that pair perfectly with ginger beer in their version of a Dark 'n' Stormy, the recipe for which is below.
Devon Stormy
INGREDIENTS
3 tbsp Two Drifters Distillery Spiced Rum
Ginger beer
Wedge of lime, wedge of orange and 2 slices of root ginger to garnish
METHOD
Measure the three tablespoons of spiced rum into a tumbler with ice

Fill with ginger beer

Garnish with a wedge of lime, wedge of orange and 2 slices of root ginger
Organic whisky
If you're drinking whisky, you're probably drinking a scotch. And if you're drinking a scotch, it'll be made at one of Scotland's 134 distilleries. Of these, only two (!) can be described as 'sustainable', and this includes Nc'nean.
Owned and operated by one of the few women in the whisky industry, the CV for Nc'nean's whisky not only checks a hell of a lot of sustainability boxes, but each of their claims are fully traceable, too. We're talking certified organic barley, 100% renewable energy and (beautiful) bottles made from fully recycled glass. Plus, the notes of apricot, peach and spice are best showcased in their signature serve, The Whisky Six (recipe below).
The Whisky Six
INGREDIENTS
2 parts Nc'nean (50ml)
4 parts soda water (100ml)
Mint sprig to garnish
METHOD
Fill a glass with cubed ice and add all the ingredients. Gently stir then garnish with a fresh sprig of mint.
Beer with a conscience
As much as we love a cold beer on a hot day, the brewing industry is rife with issues. From the water needed to produce even one pint to the energy needed to heat and cool the hops to exactly the right temperatures, it's far from an environmentally responsible practice.
Enter: the Really Good Beer Society. Leave your scepticism at the door; this is one brand that really does what it says on the can. Each beer tackles a different issue affecting people and the planet – like their Two Degrees Craft Lager (pictured) which donates 2.5% of every beer sold to Soil Association UK, or their Tidal Save Session IPA that supports Ocean Generation in their mission to stop plastic hitting the seabed. Oh, and if that wasn't enough, they taste fantastic, too.
Canned wine
Look, we'll be the first to admit that drinking wine out of a can sounds a little too similar to alcopops in the park. However, we're all ears (and mouths) when it comes to finding a wine that has a lower environmental impact – as, despite our clinking recycling bins, wine bottles aren't that easily recycled.
So, we were thrilled to discover The Uncommon – an English sparkling wine served in a can. Once you get over how beautiful the cans are, next to impress is the taste. Our favourite is the white wine spritz, which is refreshment in a mouthful thanks to cucumber and rosemary. Eco-credentials-wise, there's not a single-use material in sight, the cans are endlessly recyclable and 5% of all profits are donated to The Bee Friendly Trust in support of the UK's buzzing black-and-yellow population. We're converted (or should that be can-verted?).