Looking for a Glasto replacement? These brilliant events still have tickets
Ever since You Know What delivered a deadly blow to large gatherings last year, we've been dreaming about festivals.
However, even though some summer parties won't be returning in their full glory this year (RIP Glastonbury), the recent government green light means that we'll be able to make those dreams into reality. That's right: festivals are back – and we cannot wait.
Now onto the most pressing issue: tickets. Securing a pass to one of the summer's hottest events can, at times, feel less likely than Willy Wonka himself handing you a golden ticket along with the keys to his chocolate factory. But we're happy to announce that you've won the Life etc. lottery, as we've found five events that are not only brilliant but still have tickets available, too.
If the thought of running around a field in lurid green wellies and a face streaked with equal parts mud and glitter is not your thing, we've got just the ticket(s) for you. From foodie festivals run by incredible chefs to opera in the park to a Scottish art extravaganza, here are five of the best festivals you can still book for this summer.
For foodies: Pub in the park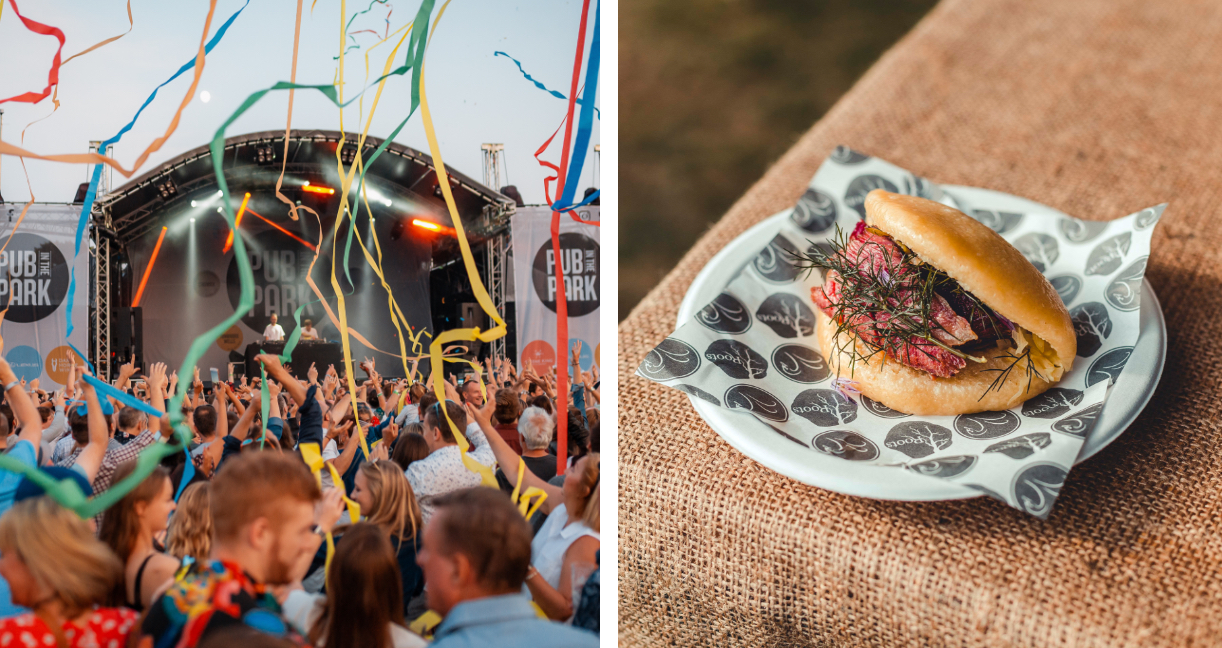 Live music? Check. Incredible food by a team of award-winning chefs? Double check. After a brief, shall we say, hiatus in 2020, Tom Kerridge is bringing his travelling Pub in the Park back for 2021. As far as music goes, there are performances from the likes of Sophie Ellis-Bextor, Toploader and James Blunt, but the real USP of this one is the food. There will be table after table of dishes from incredible restaurants from all over the country for under a tenner apiece, and with chefs like Michael Roux Jnr, James Martin and Kerridge himself taking to the live kitchens, it's almost rude not to…
When? Various dates and locations from 18th June onwards.
How much? From £45; tickets available here.
For opera fans: Glyndebourne
At the end of a crumbling drive, a maple-coloured mansion sits surrounded by perfectly manicured gardens. The air is accented with crescendos and creamy roses, and a well-heeled clientele swan about the lawns. No, you've not fallen into an episode of Bridgerton; this is Glyndebourne Opera Festival. People have been flocking to the countryside opera house since 1934 – but for those not well versed in these musical afternoons, guests are invited to combine world-class opera with a picnic during the 90-minute interval. It's an incredibly popular – and mostly sold-out – affair, but you can still get tickets for Káťa Kabanová – a tragedy by Czech composer Leoš Janáček about a young girl's choice between life and love.
When? 20th May – 29th August
How much? From £220; tickets available here.
For art lovers: Jupiter Rising
If you've never heard of Jupiter Artland, get it on your radar ASAP. It's an open-air sculpture park just outside of Edinburgh that's filled with world-class works by incredible sculptors and artists – and this summer sees the resurgence of their independent festival, Jupiter Rising. It's a two-night creative campout that involves avant-garde live music and performances taking place among rainbow-coloured tents and sculptures, and there'll be artist talks and demos as well for those who want to dig deeper into some of their favourite pieces. Oh, and dancing… Lots of dancing.
When? 28-29 August
How much? From £65; tickets available here.
For yogis: Soul circus
Early mornings at festivals are virtually non-existent – unless you're at Soul Circus, that is. As befits a festival focused on wellness, days here begin with a sunrise yoga class, followed by a series of events that merge classic festival antics with activities to soothe the soul – think drum and bass-infused yoga, astral projection workshops and body positivity talks interwoven with burlesque dance classes. Foodwise, everything on offer is vegan (including a dedicated falafel bar), and there'll be plenty of cider handed out as you dance your way through the after-party to bass-heavy beats.
When? 20-22 August 2021
How much? Day tickets from £79; weekend from £125; available here.
For music lovers: Isle of Wight
We couldn't finish this list without including at least one music festival. Given how quickly tickets to pretty much every musical event this summer sold out, the Great British public is clearly ready to pitch their tents in a field and dance until they drop... One of the only events with tickets remaining, the Isle of Wight festival is now top of our lists. What originally started as a counterculture event in the late 60s and early 70s has morphed into a well-rounded weekend catering to all music tastes. Expect performances from the likes of Tom Jones, Snow Patrol and Maisie Peters – as well as cracking sunsets over the main stage.
When? 16 – 19 September 2021
How much? Day tickets from £70; weekend from £185; available here.
In need of outfit inspiration? Check out our festival fashion edit here.