These handmade works of art will help bring a touch of the wild to your home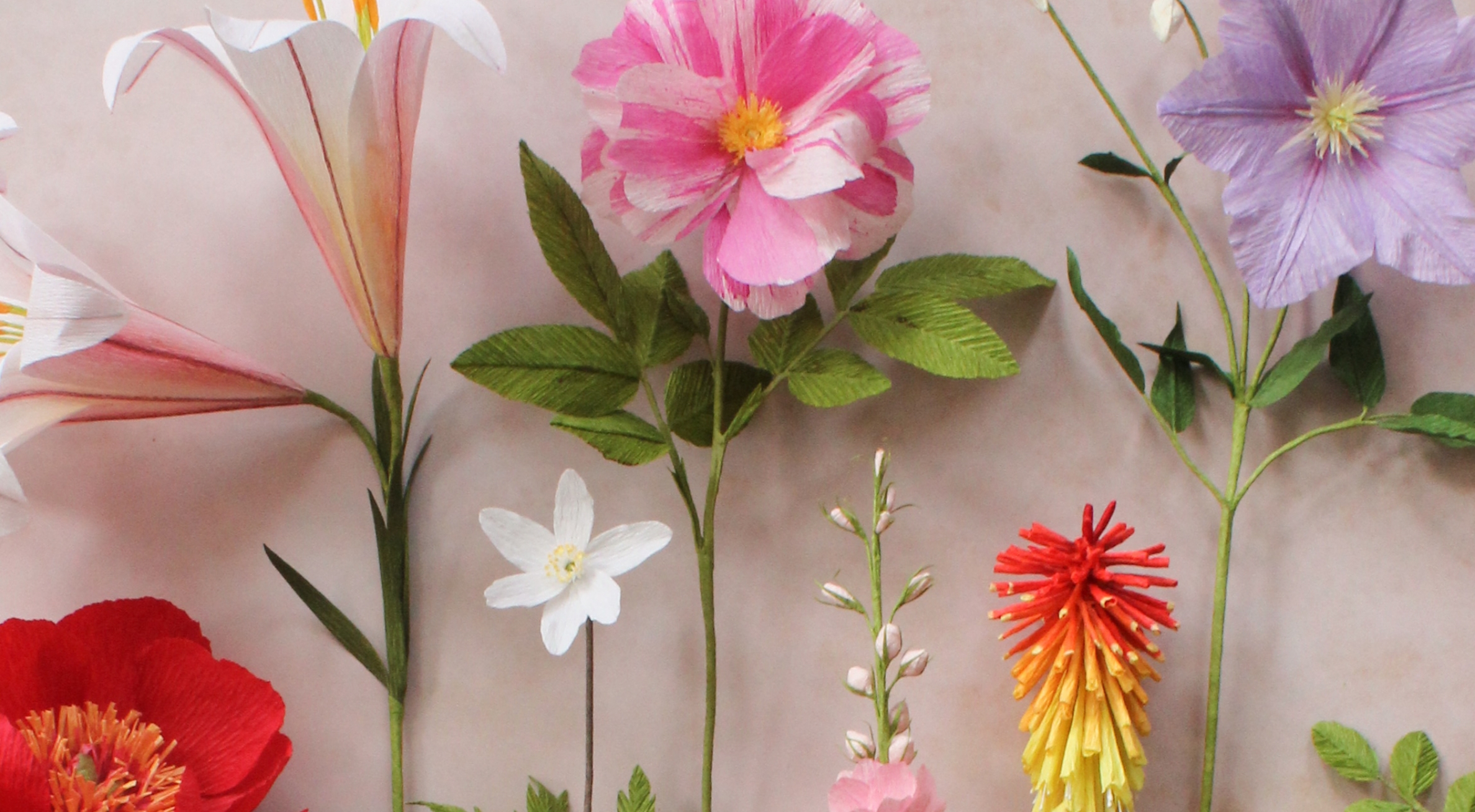 It's not often that the worlds of art, interiors and fashion all combine – especially in a form that has its roots in crafting. But as well as uniting the creative kingdoms, paper flowers have garnered a serious fan base thanks to their ability to bring an artistic version of nature indoors.
Don't believe us? Type in #paperflowers on Instagram and you'll find yourself confronted with 2.3million posts endlessly filled with poppies and peonies, hyacinths and tulips – in fact, every kind of flora under the sun. And alongside posts showcasing amazing works of art, there are also plenty of DIY tutorials teaching amateurs how to accomplish something similar. Like the sound of paper flower power? This is what you need to know…
What exactly are paper flowers?
The clue is in the name here. In essence, creations made by paper artists that range from the realistic and romantic to the whimsical and playful. "I think it's this idea of playing with something very natural but making it into something else, into an art piece," explains Miranda Sinclair, interior stylist and paper flower maker.
But while these creations are based on flowers, unlike silk flowers, paper flowers exist in their own space. "A lot of people want to compare them to fresh flowers, but we are not trying to create something that is an alternative," says maker Emmeli Kimhi. "What we make is a completely different craft; paper flowers are something in their own right."
How are they made?
By hand, using paper that is often painted and then carefully cut and crafted into flowers. As such, every flower made is unique. Depending on the size and intricacy of the flower, it can take anything from an hour to a full day to create one stem. Emmeli estimates that in the two years since she started making paper flowers, she has created around 3000 stems.
Why have they become so popular?
Aside from the obvious eye candy? It's probably the result of lockdown, says Susie Beech, paper artist and author of A Petal Unfolds: How to Make Paper Flowers. "I think people got into crafting a lot more during lockdown – I've seen a lot of new makers coming through since then. Plus people really started to give more attention to their homes. They not only wanted to make their interiors feel beautiful, but to be filled with things that helped them feel closer to nature. Paper flowers are great for that."
Emmeli Kimhi, who began making paper flowers after her job became a casualty of COVID, agrees: "I'd been working in fashion for 10 years when I was made redundant, so I started making flowers in lockdown as more of a relaxation method. You're cutting the same shapes over and over again, so it has a meditative quality. It was only when I posted pictures on Instagram of them that it began to grow into a business."
Are they sustainable?
In comparison to cut flowers? Most definitely. The handcrafted, artistic element to paper flowers means that they are more likely to be cherished over time, rather than discarded in a matter of days like their natural counterparts. "As long as people are mindful of the amount of light they are exposed to so they don't fade, there is no reason they won't last for years," says Susie.
"I'm certainly making something that I hope would last forever, that's not throw-away, that's not being shipped over from Holland, which is where most of our cut flowers come from," explains Miranda.
While pre-dyed paper lessens the eco-credentials, high-end makers tend to create their own unique materials. "When I use paper, I normally paint it myself," says Miranda, "so I end up using every tiny little scrap – I've taken the time to paint it and get the colour right. I don't want to waste any of it."
What should I look out for when I buy them?
For Susie, the big thing here is the artistry: "The craftsmanship with paper flowers is very refined, so look at the finish of the flowers, like the stems and the leaves, which are just as important as the real flower for the actual finish."
Make sure you look at which materials are used, too. "I always think it does make a big difference if the paper is painted as opposed to stock colours," explains Miranda. And if you're set on a certain colour, think about where you want to display them – they will be affected by sunlight, so consider whether you mind if the colour fades over time.
Who are the makers to know?
With more and more makers appearing on the scene, take a look at some of the most exciting names to follow right now to add some flower power to your feed…
From top left to bottom right: Ann Wood, Anandamayi Arnold, Livia Cetti, Tiffanie Turner